Home
Mr. Majnu Full Movie Review and Rating
Mr. Majnu Full Movie Review and Rating
Average Critics Rating: 0
Total Critics:0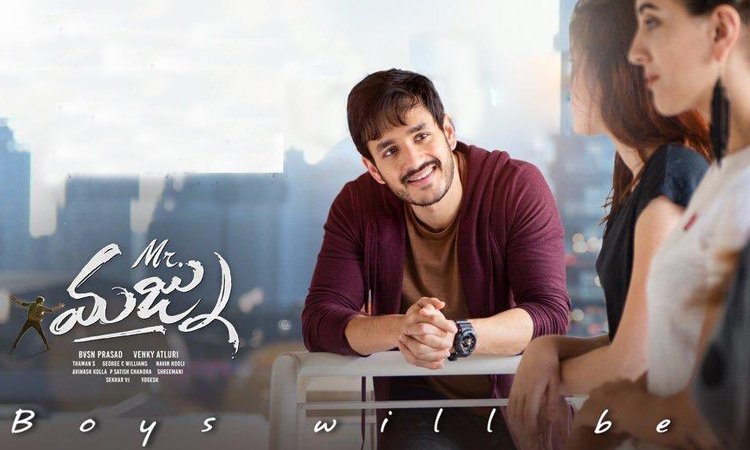 Critic Reviews for The Boxtrolls
Mr. Majnu Full Movie Review and Rating
Mr.Majnu Story:
Vikki (Akhil) is a ladies' man. Girls find him magnetic. Long relationships is not his cup of tea. Nikki (Nidhi) is his opposite pole who dreams of finding a perfect man like Rama. Their roads cross as brother is engaged to Vikki's cousin. Their family bonds over the marriage and so does Vikki and Nikki.
Eventually, she realizes that he's good at heart and falls for him but Vikki is not ready for longtime relationship. They get into an agreement of relationship for two months. Nikki gets into deep neck but Vikki turns adverse for her possessiveness so they break up. Over a period, Vikki realizes that he's heartbroken and that is what real love is about. He sets on a mission to convince Nikki.
Mr. Majnu Review:
Mr. Majnu is like coming of age 'Prem Nagar'. How good did Akhil carry the torch of Akkineni's legacy of romance, let us see.
His character of Vikki is well etched as charmer with heart at right place. Besides romancing with girls, he also solves family problems and melts hearts with his magical preachings. First half is fun with subtle comedy, cute romantic scenes and sentimental drama. Some heart touching and tear jerking moments.
Bromance between Akhil and Priyadarshi with a 'Hello Brother' connect evokes fun. Akhil and Nidhi's pairing is eye cynosure. Conflict point that comes in the interval appear rushed and hence not convincing to the mark. Though the film initially reminds 'Geetha Govindam' it then takes 'Orange' route.
Second half flows in viscous with Hyper Aadi and Subbaraj evoking laughs. Akhil tries all sorts of gimmicks to woo heroine but she keeps rejecting. Over a point of time, it gets redundant with no striking twist making one feel like yelling enough is enough. However, director concludes the film on an romantically chuckle some note for the smileys to go.
Double thumbs up for Akhil's romanticized Akkinenic version. His body language and dialogue delivery is pretty impressive. Akhil uttering ANR's famous dialogue from Prem Nagar with his own swag is interesting.
Nidhhi is good too. Priyadarshi, Vidyuraman, Hyper Aadi make it a laugh riot. Rao Ramesh, Nagababu, Subbaraj, Jayaram, Sitara and Pavitra Lokesh  are good in parent guardians roles.
Thaman's electrifying music turbo charges Mr. Majnu to cent percent. Cinematography is cool as well adding to the feel good experience. After Tholiprema, we get to see another kick-ass 5G love story and Venky Atluri makes us eagerly await for another one from him or watch Mr. Majnu over again.
Bottom-line: "Mr. Majnu –  Excuse Me Miss"
Cast: Akhil, Nidhhi Agerwal, Priyadarshi, Hyper Aadi and others
Director: Venky Atluri
Music: Thaman
Producer: BVSN Prasad
Banner: SVC
Leave your valuable feedback on our Mr. Majnu movie review.