Home
Vinaya Vidheya Rama Full Movie Review and Rating
Vinaya Vidheya Rama Full Movie Review and Rating
Average Critics Rating: 0
Total Critics:0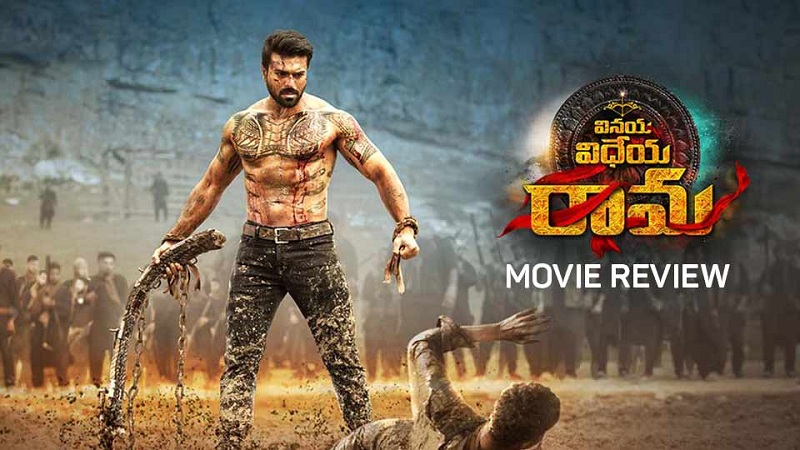 Critic Reviews for The Boxtrolls
Vinaya Vidheya Rama Full Movie Review:
Vinaya Vidheya Rama Story:
Four orphans who are just about to commit suicide find an abandoned baby. They rise him as their own brother. Ram who is aggressive since childhood drops out of school. Elder brother Bhuvan (Prashant) becomes Election Commissioner and other two brother as his subordinates.
Brothers get married and they all live as caring happy family in Vizag. Bhuvan's honesty doesn't go well with corrupt politicians. When they attack him, Ram strikes back at them with vigour. Bhuvan is transferred to Bihar which is under evil clutches of dreaded mafia don Raj Bhai (Vivek Oberoi). He doesn't allow elections to happen. Bhuvan takes charge with the help of special armed forces.
However, Bhai's goons defeat the army and hold brothers captive. Ram learns about it and comes to rescue them. How he saves the brothers and family from the villains form the remaining story.
 Vinaya Vidheya Rama Review:
As Trivikram rightly said at pre-release event, the film should have been titled as 'Vilaya Vidvamsa Rama'. Boyapati Sreenu sticks to his template mass action blend with family drama.
Its blast of action every now and then breaking Newton's laws of forces with gravity defying action stunts. Boombastic action episodes in variety of formats excite action lovers. From Moharam style to Nepal border PUBG kind of battle with atleast 500 guys get killed only that the count doesn't appear on screen audience can count. Charan's chiseled and tattooed avatar blazing guns is of course feast for fans.
Ram Charan gets a larger than life role. Its mass menacing to a different level altogether. He is like demolition man on rampage that no Marvel superhero can match. His aggression is such that he doesn't use doors but smash through them and travels miles in jiffy. Hero elevation crosses all limits and reaches stars. Boyapati's trademark family sentiments are irksome and hey! They are also made to kneel down by villains.
Vivek Oberoi is lethal as baddie. His style of humiliation include making opponents where bangles and tie anklets. The film will be enjoyed by action lovers and adventure junkies. The visual grandeur and lavishness evident all over the film.
Tamil hero Prashanth is decent in his role. Sneha as Vadhina makes her presence felt. Kiara Advani adds glamour and her chemistry with Charan is good. Aryan Rajesh and Ravi Varma are okay.
Devi Sri Prasad's background music is good but songs are disappointing. Mass dialogues are sure to invoke whistles. Kanal Kannan needs special mention for his devastating action episode.
Bottom-line: "Vinaya Vidheya Rama – Ram Charan turns a Savage in this Boyapati Style Rampage"
Cast : Ram Charan, Vivek Oberoi, Kiara Advani, Prashanth Thiagarajan
Director : Boyapati Srinu
Producers : D. V. V. Danayya
Music : Devi Sri Prasad
DOP : Rishi Punjabi
Editor : Kotagiri Venkateswara Rao
Leave your valuable feedback on our Vinaya Vidheya Rama Review