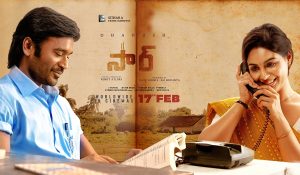 Cast: Dhanush, Samyuktha, Samuthirakhani, Hyper Aadi, and others
Director: Venky Atluri
Producers: Surya Devara Naga Vamsi, Sai Soujanya
Actor Dhanush, an intense performer who has a decent following in Telugu is trying his luck with a Telugu-Tamil bilingual VAATHI/SIR directed by the Telugu director Venky Atluri. The movie has generated decent buzz with teasers, and trailers and finally hit the theatres. Let's see what the movie is all about.
Story:
SIR is a story about a young lecturer who takes on the private college's president and the educational system as a whole. When some struggling students discover a video of a person teaching mathematics in a simple way, they are led to Balu, a junior lecturer played by Dhanush. The film follows his journey as he interacts with other characters such as the biology lecturer, the village sarpanch, and the private college owner.
Performances:
Dhanush delivers an outstanding performance, portraying his character's emotions and mannerisms with perfection. Samyuktha Menon compliments him well, and the chemistry between the two actors is excellent. Samuthirakhani is well-suited for his role as the private college owner, while Sai Kumar's transformation as the village sarpanch is smooth and impressive. Tanikella Bharani is adequate in his role, but Narra Srinivas and Hyper Adi's scenes are a bit irksome.
Analysis:
The story, written by Venky Atluri, is predictable and routine, but some scenes are thought-provoking and will evoke a positive response from viewers. The film touches on privatization, globalization, and the caste system, but many scenes test viewers' patience. GV Prakash Kumar's music is situational, while Yuvraj's cinematography is excellent, capturing the rural atmosphere perfectly. The production values are good, but the lack of commercial elements and a powerful conflict might disappoint some viewers.
Verdict:
Overall, SIR is a message-oriented film that takes viewers back to the 90s when private colleges and tuition centers took advantage of the demand for engineering and medical courses. The movie features good emotions and some excellent performances, but it is let down by a predictable story and a lack of commercial elements.