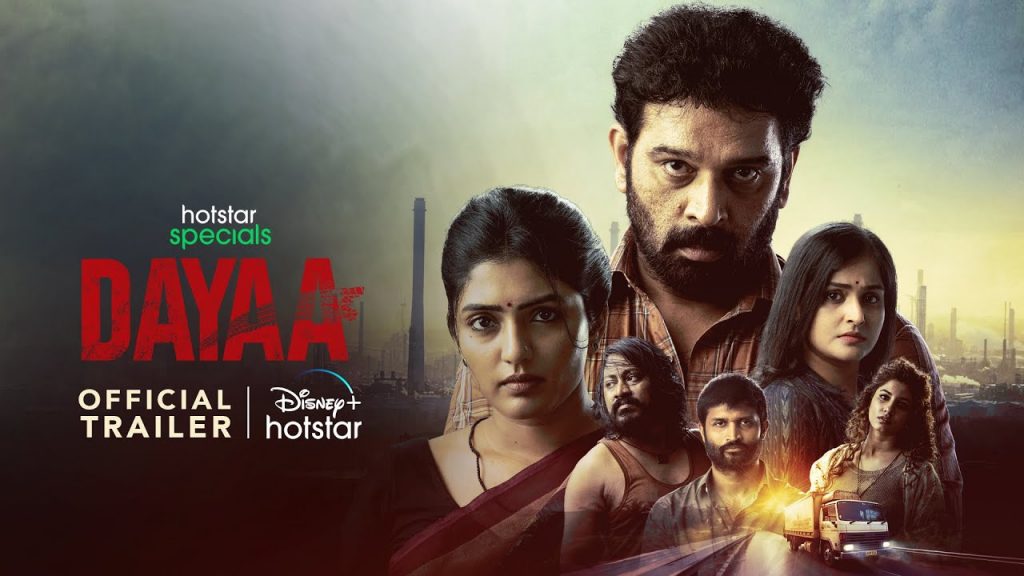 Starring: JD Chakravarthy, Ramya Nambessan, Eesha Rebba, Josh Ravi, Vishnu Priyaa, Babloo Prithiveeraj, Kamal Kamaraju, Nanda Gopal, Gayathri Gupta & others
Director: Pavan Sadineni
Producers: Shrikant Mohta, Mahendra Soni
Music Director: Shravan Bharadwaj
Story:
"Dayaa" marks JD Chakravarthy's remarkable debut in the world of OTT, helmed by the talented director Pavan Sadineni. The narrative revolves around Dayakar (JD Chakravarthy), a dedicated freezer van driver, working tirelessly to support his pregnant wife, Alivelu (Eesha Rebba).
One fateful day, his life takes a dramatic turn when he discovers the lifeless body of renowned journalist Kavitha (Ramya Nambessan) inside his van. This shocking revelation shakes Dayaa to his core, and he seeks assistance from his loyal assistant, Prabha (Josh Ravi), to confront the harrowing situation. As they embark on a quest for the truth, they find themselves embroiled in a labyrinth of mysteries surrounding Kavitha's murder, leading to profound and life-altering consequences.
Positive Aspects:
"Dayaa" excels with its masterfully crafted and well-defined characters, each driven by their own ambitions, making the series incredibly engaging.
The show artfully weaves together the paths of various characters, creating a captivating and intricately constructed drama.
The latter half of the series picks up the pace, brimming with riveting drama and action, accompanied by the splendid background score by Shravan Bharadwaj.
JD Chakravarthy's stellar performance as Dayakar shines through, as he flawlessly portrays the multifaceted aspects of his character.
Ramya Nambessan delivers an outstanding performance as the determined journalist Kavitha, adding depth and intensity to her portrayal.
The climactic moments are filled with suspenseful cliffhangers, leaving the audience eagerly anticipating the promised second season, which is crucial to the story's progression.
Negative Aspects:
The initial episodes suffer from slow pacing, and certain sequences could have been trimmed to sustain tension and intrigue.
The non-linear screenplay chosen in the early episodes might present a minor challenge at first, but it eventually grows on the viewers.
Verdict:
"Dayaa" is a gripping crime drama that boasts well-developed characters and stellar performances from the entire cast. Director Pavan Sadineni skillfully crafts a compelling narrative that leaves the audience with several indelible moments. While the pacing may waver in a few instances, the series as a whole provides a satisfying watch, particularly for enthusiasts of crime dramas. With its intriguing storyline and strong performances, "Dayaa" makes a mark in the world of OTT and keeps viewers eagerly awaiting the next installment.