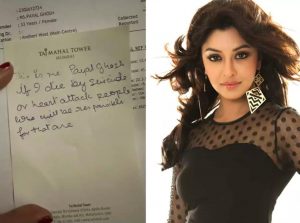 Controversial actress Payal Ghosh, who had previously accused filmmaker, Anurag Kashyap of sexual harassment, has caused a stir on social media by sharing what appears to be an unfinished suicide note. The hand-written note threatens to expose those who would be responsible for her death, either by suicide or heart attack. While some followers expressed concern for her well-being, others criticized her for seeking cheap publicity. However, many have advised her to seek medical assistance if she is struggling with mental health issues.
Ghosh has been open about her own struggles with depression, saying that mental health is often neglected and can quickly become dangerous. She herself had a close call when she attempted to jump from her building, but was saved by her brother. She emphasized the importance of giving mental health more attention, particularly as busy schedules, and career pressures can cause people to drift away from it. Ghosh credited her family and close friends with helping her to overcome her difficulties and move forward.
Payal Ghosh acted in several Telugu movies like Prayanam, Oosaravelli, and Mr. Rascal.