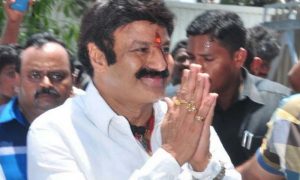 Nandamuri Balakrishna who is famous for his on-screen image is equally famous for his controversies. He is known for his reckless behavior and misbehaving with the fans and the public. He was criticized several times for his insensitive comments and for slapping the fans. Now, he picked up another controversy for his alleged demeaning statements against a particular caste.
Balakrishna's comments against a particular caste in the recently released Veera Simha Reddy movie invited the wrath of the Deva Brahmin caste. In the movie, Balakrishna was seen saying Devala Maharshi is the guru of Deva Brahmins and termed Ravana Brahma as their leader which didn't go well with the members of that caste.
They lashed out at Balakrishna for his demeaning comments about their caste. Wasting no time, Balakrishna released a press note this morning and apologized to the members of the Deva Brahmin community.
He thanked Deva Brahmin community leaders for correcting him about the caste's history. The actor said that he didn't mean to hurt anyone's sentiments and apologized for his statement. He hoped that the community members will accept his apology.
Directed by Gopichand Malineni, Veera Simha Reddy is an action entertainer released a few days ago. The movie opened with packed houses and is running successfully in theatres.