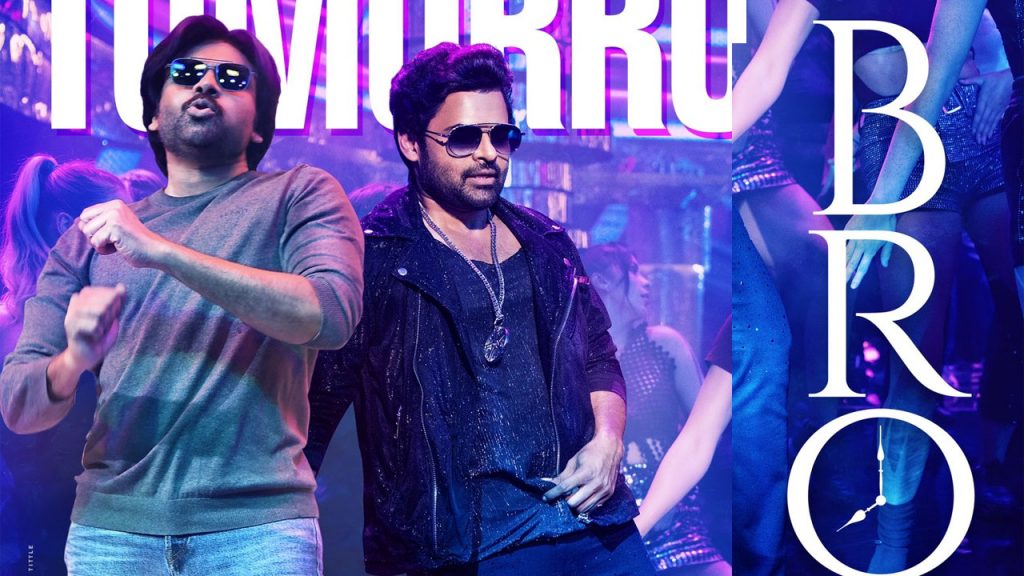 Cast: Pawan Kalyan, Sai Dharam Tej, Priya Prakash Warrier, Kethika Sharma
Director: Samuthirakhani
Producers: T.G. Vishwaprasad, Vivek Kuchibotla
Pawan Kalyan and his nephew Sai Dharam Tej star together in the film BRO, directed by Samuthirakani. The movie is inspired by the Tamil film "Vinodaya Sitham" and has generated high expectations ahead of its release today. Notably, top director Trivikram worked on the screenplay and dialogues for the Telugu version. Urvashi Rautela adds glamour with a special dance number, while People Media Factory and Zee Studios serve as the producers. Fans are eagerly awaiting the powerful duo of Pawan Kalyan and Sai Dharam Tej in BRO!
Story:
Mark alias Markandeyulu (Sai Dharam Tej) is the responsible provider for his family after losing his father at a young age. He leads a principled life and is loved by everyone at home and work. One day, a fantastical event occurs when Mark gets a 90-day extension to his life, courtesy of TIME (played by Pawan Kalyan). The film follows the events that unfold during this grace period.
Analysis:
BRO, directed by Samuthirakani, is inspired by the Tamil film 'Vinodhaya Sitham.' The Telugu version seeks to capitalize on Pawan Kalyan's charisma to attract a wider audience. It features popular Pawan Kalyan songs that sometimes fit well with the narrative but occasionally feel forced. The first half is entertaining, with Pawan Kalyan showcasing different avatars as TIME. The film manages to subtly incorporate political dialogues without disrupting the flow.
The story carries a philosophical touch, and the climax beautifully portrays the essence of modern life. However, the film's original essence is overshadowed by elements added to cater to Pawan's fans. At times, it feels like watching a compilation of Pawan Kalyan's moments from various events. The songs, though decent, don't add much to the overall plot. The production values are satisfactory, but the VFX could have been better. Trivikram's input mainly revolves around including fan-centric elements.
Performances:
Pawan Kalyan's screen presence steals the show and saves the film. Sai Dharam Tej delivers a commendable performance as Mark, though he appears a bit uncomfortable in the dance sequences. Brahmanandam shines in his brief appearance, while Vennela Kishore and Tanikella Bharani have limited roles. The movie centers around the interactions between Pawan and Sai Dharam Tej.
Positives:
Pawan Kalyan's captivating screen presence
Well-placed Pawan Kalyan songs enhancing certain scenes
Entertaining first half
Concise runtime
Negatives:
Shallow storyline
Overemphasis on fan-centric elements
Deviation from the original essence of the film
Verdict:
BRO will mostly appeal to Pawan Kalyan's fans but may offer an average experience to others. While trying to leverage Pawan's popularity, the film loses some of its original charm. Thaman's energetic background score and the nostalgia of Pawan's past hits add some life to the movie.