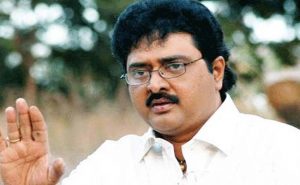 The unfortunate spread of false news regarding the health of movie actors is not a new occurrence. Certain media channels knowingly engage in disseminating misinformation about actors, often with the intention of boosting their viewership. Today, another incident occurred when reports emerged claiming that Sudhakar, a senior comedian and actor, was in critical condition and experiencing a rapid decline in health.
However, Sudhakar himself took it upon himself to address these baseless speculations that had rapidly circulated on social media platforms. In a newly released video, Sudhakar aimed to put an end to the rumors surrounding his current health status.
"I want to assure everyone that I am alive and in good health. I have become aware of certain media reports suggesting that I am unwell. But I want to clarify that these claims are completely untrue. I am perfectly fine, and there is no need to worry," Sudhakar confidently stated in the video. With this statement, it becomes evident that Sudhakar is in good health, and there is no reason to be concerned about his well-being.
నాపై వస్తున్న పుకార్లను దయచేసి నమ్మకండి..అది ఫేక్ న్యూస్ : సీనియర్ సినీ నటుడు సుధాకర్#Sudhakar #Health #Tollywood #fakenews #NTVTelugu #NTVENT pic.twitter.com/MAgideO4ab

— Ntv Telugu Entertainment (@NtvTeluguEnt) May 25, 2023
Sudhakar, a highly regarded senior actor, has graced the screens in over 600 films primarily in Telugu and Tamil languages. While he gained fame for his comedic roles, he also showcased his versatility by portraying supporting and villainous characters, and even taking on lead roles in a few films. Additionally, Sudhakar ventured into film production, contributing to the Telugu film industry with notable works like "Yamudiki Mogudu," which starred the esteemed Megastar Chiranjeevi. His exceptional performances have earned him two Nandi Awards.
It is our hope that baseless rumors concerning the health of actors cease to exist, allowing them to focus on their craft and continue to entertain their audiences.