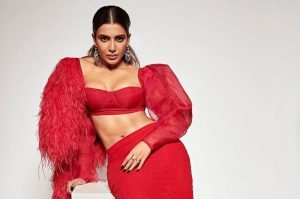 Samantha made some candid remarks about her life experiences, alluding to personal struggles without naming anyone. She stated that her life has been a rollercoaster ride, but she also affirmed that she has nothing to hide. While some speculate that Samantha may be seeking sympathy through her statements, it's important to acknowledge that everyone has their own set of challenges to overcome. By opening up about her past, Samantha's honesty may inspire and encourage others who are facing similar difficulties.
"Some individuals tend to conceal certain aspects and put on a fake front. However, this ultimately leads to them losing their true selves and unwittingly succumbing to a lot of stress.
"I'm fortunate enough not to experience that issue since my life is transparent and open for all to observe. I cannot hide facts and lead a fake life"
For Samantha, happiness and love are the driving forces in her life. Despite facing many challenges, she has always risen above them with a positive attitude.
"The significance of love has undergone a transformation in my perception. And even if it hasn't, that's perfectly fine.
"Throughout these years, I have been the one who has been giving love. However, over the last 7-8 months, I have been receiving an abundance of love from my fans, family, and close friends. It's an overwhelming amount of love that I've never experienced before in my life", she concluded.
Samantha, who is promoting her upcoming movie Shakunthalam, has been engaging with the media regularly. Despite their persistent questioning about her personal life, she remains confident and unbothered in her responses.