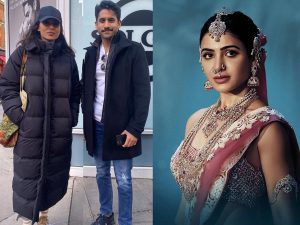 Samantha, who divorced her husband, Naga Chaitanya, has been making indirect negative comments about him in the media, while Naga Chaitanya has remained silent on the matter. Samantha's recent outburst was fueled by rumors of Naga Chaitanya's alleged relationship with Shobhita Dhulipala, a popular actress who is making her mark.
The rumors about Naga Chaitanya and Shobhita Dhulipala's affair have been making the rounds for some time now. However, neither Naga Chaitanya nor Shobhita has confirmed or denied the rumors. It was only when a chef from a popular restaurant posted a picture with Naga Chaitanya that the relationship between the two was revealed to the public.
Samantha, who was reportedly furious about the rumors, made a statement in the media, saying that she was not bothered about who Naga Chaitanya was in a relationship with.
She said " I am not bothered as to who is in a relationship with whom. Those who do not know the value of love will be left in tears irrespective of the number of people they date. At least that girl should be happy. If he changes his behavior and looks after the girl without hurting her, it will be good for everyone"