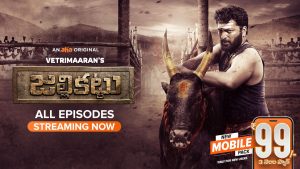 Jallikattu is a Tamil language series that has been produced by Vetrimaaran, a renowned director in the Tamil film industry. The series, which is based on the traditional bull-chasing sport Jallikattu, has recently been released on Aha Telugu in its Telugu dubbed version. Let's take a look at the review of the series.
Story:
The story is set in Mullaiyoor, a region in Tamil Nadu, where a conflict arises between the landlords and agricultural laborers. The laborers demand a share of the land, but the landlords refuse. This leads to a clash between the two groups, and the laborers decide not to participate in the Jallikattu sport. Years later, Paandi (Kalaiarasan), a man from the lower caste, participates in the sport and tames the bull of a wealthy landlord. This reignites the feud between the upper and lower caste people, which forms the crux of the story.
Plus Points:
The makers have done an excellent job in presenting the traditional sport of Jallikattu in an engaging manner. The effort put in by the actors to train for the sport is evident, and they deserve praise. The portrayal of the sport has been detailed and the camera work during the sport is impressive. The first few episodes build curiosity, and the story is well set. The actors have delivered commendable performances, with Antony, Kishore, and Sheela leaving a lasting impact. The depiction of caste discrimination is well presented. The inclusion of a comedy track in the fifth episode provides a much-needed break from the serious tone of the series.
Minus Points:
While Jallikattu is the central theme, the makers have tried to include different elements around it. While some of these elements are well presented, others fall short. Some subplots lack proper development, resulting in a lack of impact. Although these subplots seem good individually, they fail to connect cohesively. The series moves at a slow pace, with some episodes being tedious and the narration being flat. The series becomes interesting whenever the sport element is included, but the momentum is quickly lost with the introduction of underwhelming scenes. The story becomes highly predictable towards the end, and the final episode feels rushed and cinematic. The series could have been better if it had been wrapped up in fewer episodes.
Verdict:
Jallikattu tries to merge different facets like love, revenge, and power hunger with the sport of Jallikattu. While some episodes are engaging, others are dull. The slow narration and lack of connectivity between subplots work against the series. If you enjoy watching rural dramas, Jallikattu is worth a watch, but it falls short of being a great series.