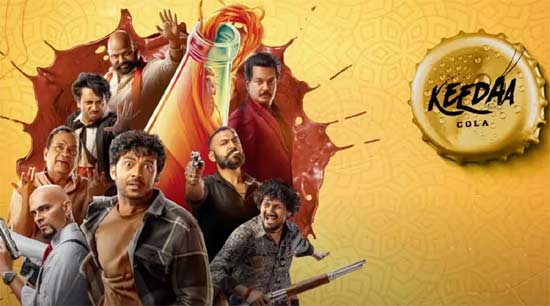 Starring: Chaitanya Rao, Rag Mayur, Brahmanandam, Tharun Bhascker, Jeevan Kumar, Raghu Ram, Ravindra Vijay, and others
Director: Tharun Bhascker
Producers: K. Vivek Sudanshu, Saikrishna Gadwal, Srinivasa Kaushik Nanduri, Sripad Nandiraj, Upendra Varma
Music Director: Vivek Sagar
Tharun Bhascker, known for his strong youth following, presents his latest venture, the crime comedy "Keedaa Cola," featuring a star-studded cast. The film, which released today amidst high anticipation, aims to captivate the audience with its intriguing plot.
Story:
Vaasthu (Chaitanya Rao), coping with Tourette syndrome, lives with his grandfather Varadharaju (Brahmanandam) and sells patient simulators to sustain himself. After an unfortunate incident involving a damaged patient simulator, Vaasthu faces legal consequences. Later, an unpleasant surprise in a soft drink purchased for his grandfather leads to a suggestion by his friend Lancham (Rag Mayur), a lawyer, to file a case in the consumer forum. As the story progresses, Vaasthu and Lancham cross paths with Jeevan (Jeevan Kumar), an aspiring Corporator, leading to unforeseen developments.
Plus Points:
Continuing his trend, Tharun Bhascker delivers unique and situational humor in "Keedaa Cola." The second half proves to be the highlight, offering engaging moments and a thrilling, chaotic climax. Tharun Bhascker's signature comedy is evident throughout, with clever utilization of visual elements for comedic effect.
Noteworthy comedic moments include Tharun Bhascker's English-speaking demand to Jeevan Kumar, the incorporation of an old song during certain dialogue sequences, Vishnu Oi's comedic antics, and Raghu Ram's interactions with professional assassins. Tharun Bhascker's portrayal of Naidu is commendable and convincing. The performances of Jeevan Kumar, Rag Mayur, Chaitanya Rao, and Vishnu Oi stand out, adding depth to the narrative. The technical aspects, including the lively background score by Vivek Sagar and the impressive cinematography by AJ Aaron, contribute significantly to the film's appeal. With a runtime of just 2 hours, the pacing feels appropriate for this crime comedy.
Minus Points:
However, the primary drawback of "Keedaa Cola" lies in its shallow storyline, which lacks substantial depth. While the second half compensates with an entertaining quotient, the first half struggles to maintain engagement, primarily focusing on character development with limited impactful scenes. Some of the attempted jokes fall flat, and the pacing occasionally lags, affecting the overall flow. Although Brahmanandam delivers a notable performance, his limited screen time may disappoint fans eager for more of the legendary comedian.
Technical Aspects:
The contributions of Vivek Sagar with his vibrant background score and AJ Aaron with his exquisite cinematography significantly elevate the film's quality. The production values are commendable, while the editing is satisfactory. Director Tharun Bhascker demonstrates clear intent, aiming to offer an unconventional and amusing experience. His adept handling of the humor elements and commendable performances from the cast contribute to the film's overall appeal.
Verdict:
In conclusion, "Keedaa Cola" offers a watchable crime comedy-drama experience, with its strength lying in the engaging second half and the brilliantly executed, chaotic climax. While the film lacks a strong storyline and the first half could have been more compelling, the crazy moments and situational humor in the latter segments, combined with strong technical values, make it a decent option for this weekend's entertainment.