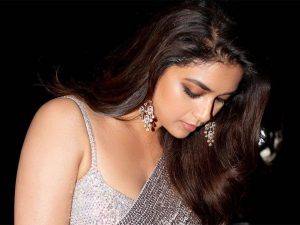 There has been quite a buzz lately surrounding Keerthy Suresh and her alleged romantic involvement with Farhan Bin Liaquath. The speculation began after some intriguing social media posts surfaced, showing Keerthy and Farhan together, looking quite happy and striking some poses. The gossip mill went into overdrive when Keerthy even went ahead and wished Farhan a happy birthday, sharing a stunning picture of herself in a saree, which Farhan didn't hesitate to repost on his own social media.
However, Keerthy Suresh decided to put an end to these rumors by taking matters into her own hands. She took to social media to address the gossip head-on, posting, "Hahaha!! Didn't have to drag my dear friend into this one! I'll spill the beans about the real mystery man whenever I feel like it. So, for now, just take a chill pill and wait patiently! PS: You haven't even come close to guessing it right, not once!"
Hahaha!! Didn't have to pull my dear friend, this time!

I will reveal the actual mystery man whenever I have to 😉
Take a chill pill until then!

PS : Not once got it right 😄 https://t.co/wimFf7hrtU

— Keerthy Suresh (@KeerthyOfficial) May 22, 2023

While Keerthy continues to be in the limelight for her remarkable performance in Nani's film Dasara, she has wisely chosen to keep her personal life under wraps. With projects like Bhola Shankar alongside the legendary Chiranjeevi, Maamannan, Siren, Raghu Thatha, and Revolver Rita in the pipeline, Keerthy seems to be focused on her professional endeavors for now.
So, all the eager fans and gossip enthusiasts out there will just have to hold their horses and wait for any official announcements or revelations about Keerthy's relationship status and the true identity of the mystery man. Until then, let the rumors swirl, and the speculations continue to fuel our curiosity!