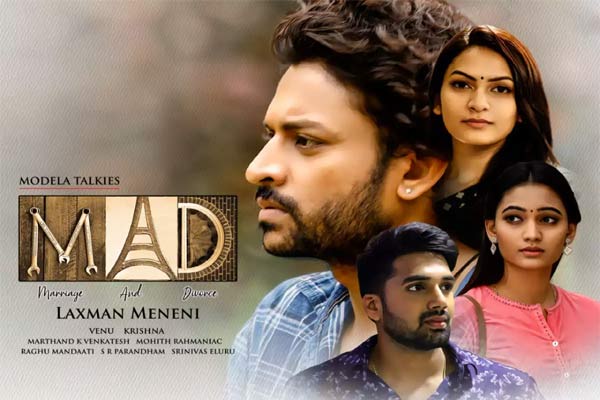 Starring: Narne Nithin, Ram Nithin, Sangeeth Shobhan, Sri Gouri Priya Reddy, Ananthika Sanilkumar, Gopika Udyaan, Vishnu Oi and others
Director: Kalyan Shankar
Producers: Haarika Suryadevara & Sai Soujanya
Music Director: Bheems Ceciroleo
"Mad," a youthful entertainer starring relatively new faces such as Narne Nithin (NTR's cousin) making his debut, along with Ram Nithin and Sangeeth Shobhan, has generated considerable excitement with its promotional material. Directed by Kalyan Shankar, the film has already seen paid premieres. Let's delve into the review to see how "Mad" fares.
Story:
"Mad" revolves around three carefree individuals: Manoj (Ram Nithin), Ashok (Narne Nithin), and Damodhar (Sangeeth Shoban), who are college students in an engineering college. Their college life primarily consists of engaging in trivial fights. Manoj falls for Shruthi (Sri Gouri Priya Reddy), while Jenni (Ananthika) has feelings for Ashok. Damodhar, initially uninterested in relationships, experiences a change when a girl named Vennela starts calling him daily. The film follows the college experiences of these three friends.
Plus Points:
True to its title, "Mad" delivers slapstick comedy with numerous one-liners, making it an enjoyable watch.
College dramas are always refreshing, and "Mad" invokes nostalgia for one's own college memories.
The characters are relatable and entertaining, and the film focuses on providing non-stop humor.
Sangeeth Shobhan, Ram Nithin, Narne Nithin, and Vishnu Oi shine in their roles, with Sangeeth Shobhan and Vishnu Oi displaying impeccable comedy timing.
Sangeeth Shobhan's expressions during phone conversations stand out, and Ram Nithin and Narne Nithin leave a positive impact.
The leading ladies, Sri Gouri Priya Reddy, Ananthika Sanilkumar, and Gopika Udyaan, deliver commendable performances.
Minus Points:
The songs in the film are not particularly impressive and affect the pacing.
While the film is labeled as a madcap entertainer, those expecting a substantial storyline and emotional depth might be disappointed.
The primary twist in the story towards the end is somewhat predictable.
The use of cuss words, although intended for the youth audience, may be problematic for some viewers.
The fight sequence feels out of place and overly dramatic, reminiscent of older films.
Technical Aspects:
Despite the lackluster songs, Bheems Ceciroleo's background score enhances the film's experience.
The cinematography by Shamdat and Dinesh Krishnan B is clean, and the production values are commendable.
The film maintains a fast-paced tempo, and the editing team's work is praiseworthy.
Director's Perspective:
Director Kalyan Shankar handles the film with flair, delivering the promised tongue-in-cheek humor. Well-written dialogues and effective one-liners keep the audience engaged, even with a thin storyline. The situational humor is a notable highlight.
Verdict:
On the whole, "Mad" delivers on its promise of fun and entertainment. The film offers numerous enjoyable sequences targeted at the youth audience, with situational comedy and one-liners that mostly hit the mark. Sangeeth Shobhan, Ram Nithin, Narne Nithin (in his debut), and Vishnu Oi deliver impressive performances. However, viewers must be prepared to suspend logic to fully enjoy the proceedings.