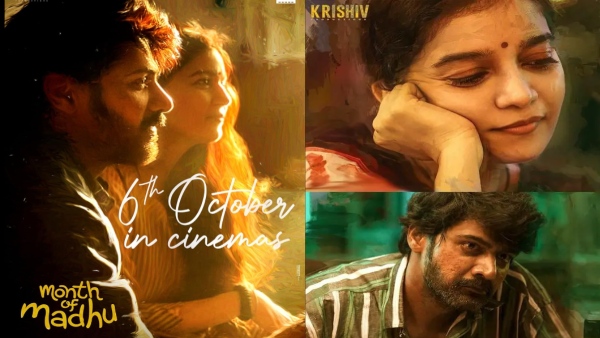 Starring: Swathi Reddy, Naveen Chandra, Shreya Navile, Gnaneswari Kandregula
Raja Chembolu, Manjula Ghattamaneni, Harsha Chemudu, and others
Director: Srikanth Nagothi
Producer: Yaswanth Mulukutla
Music Director: Achu Rajamani
Swathi Reddy, fondly known as 'Colors' Swathi, makes her return to the big screen after a brief hiatus with the long-awaited film, "Month of Madhu," where she stars alongside Naveen Chandra. The film, which has been in the making for quite some time, has finally hit the theaters today. Let's see what's the movie is all about
Story:
After a few years of marriage, Lekha (Swathi Reddy) decides to part ways with her husband, Madhusudhan Rao (Naveen Chandra). Simultaneously, an NRI teenager named Madhumitha (Shreya Navile) arrives in Vizag to attend her cousin's wedding. She unintentionally becomes involved in Madhusudhan's personal life, leading to a deeper exploration of his circumstances. What unfolds next? Does she mend his relationship or exacerbate the problems? Why does Lekha seek separation from Madhu? What choice does Lekha ultimately make? The movie holds the answers to these questions.
Pros:
Swathi Reddy delivers an exceptional performance, skillfully portraying two distinct phases of her character's life – as a teenager and a mature woman. She effectively conveys the stark emotional differences between these two stages.
Naveen Chandra excels in his role as a man dealing with anger issues and deep-seated gender beliefs. His portrayal of a troubled drinker resonates with real-life situations.
Shreya Navile, playing Madhumitha, plays a pivotal role, effortlessly embodying an NRI unburdened by societal norms and living life on her own terms. The supporting cast delivers satisfactory performances in their respective roles.
Cons:
The film's primary drawback lies in its thin storyline, stretched across an extensive 2-hour and 20-minute runtime. Weak writing and an uneven screenplay diminish the impact of the lead actors' performances.
While a gradual build-up is acceptable in the initial stages, maintaining the same languid pace into the second half becomes a significant hindrance, as observed in "Month of Madhu."
Writer-director Srikanth Nagothi's presentation lacks depth, resulting in a story that struggles to effectively engage the audience.
Artists such as Manjula Ghattamaneni and Raja Chembolu have minimal impact on the film. Harsha Chemudu's comedy scenes could have been better written. The film's songs quickly fade from memory, and the score fails to leave a lasting impression.
Technical Aspects:
Srikanth Nagothi, serving as both the writer and director, falls short in crafting a compelling narrative with engaging dialogues.
Achu Rajamani's score, while serviceable, fails to make a lasting mark. The cinematography by Rajeev Dharavath offers sporadic moments of satisfaction, but a tighter edit by Ravikanth Perupu could have streamlined the runtime.
Verdict:
Overall, "Month of Madhu" provides a lackluster and uninspiring cinematic experience, despite the commendable performances by Swathi and Naveen Chandra. The film's sluggish screenplay, underdeveloped storytelling, and inclusion of unnecessary scenes in both halves weigh it down. Considering other movie options for your weekend entertainment might be a wise choice.