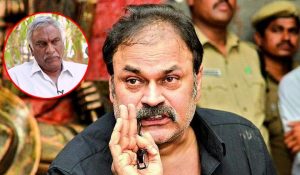 Senior filmmaker Tammareddy Bharadwaj made a comment claiming that the RRR movie had spent 80 crores on promotions and suggested they should make 10 movies instead. The RRR movie has been nominated for an Oscar, and the song "Natu Natu" was also nominated. The team, including Ram Charan, NTR, and Rajamouli, are currently in Los Angeles, conducting interviews. Tammareddy's comments on RRR have sparked criticism.
Also Read: Anger Tales Review
To Whomever It May Concern :

"నీయమ్మ మొగుడు ఖర్చు పెట్టాడారా 80 కోట్లు R R R కి ఆస్కార్ కోసం"

(#RRR మీద కామెంటుకు వై.సీ.పీ. వారి భాషలో సమాధానం)

— Naga Babu Konidela (@NagaBabuOffl) March 9, 2023
Ram Charan's uncle Naga Babu seems to have been hurt by his comments and responded to Tammareddy's comments by asking if he spent 80 crores on the Oscar campaign. Naga Babu's tweet has gone viral on social media. It remains to be seen how Tammareddy will respond to this.