Nithya Menen is one of the most talented actresses in Indian cinema. The actress can sing and dub herself in all languages. Unlike most actresses who have no qualms about skin shows, Nithya is a tad against it and chooses only selected scripts that impress her.
Read: Tollywood Hero falls in love with Samantha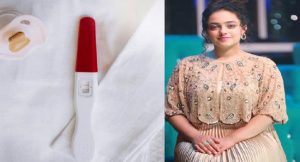 The actress who is busy with a couple of projects made a post that is creating a lot of ripples. Nithya posted a picture of the pregnancy kit and revealed that it got a positive sign on his Instagram profile. She wrote, "And, the Wonder Begins". This post has gone viral and people were shocked to see this. While a few are showering her with congratulatory messages and comments, there are others who are curious to find out who the father of the baby is.
View this post on Instagram
On the flip side, there is a strong argument that Nithya Menen is not pregnant and she is just promoting one of her upcoming films. The details will be coming soon as per reports and this photo has been posted in order to draw people's attention and announce the details regarding her project. We need to wait and see which one of these arguments is true.