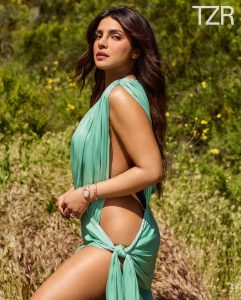 Priyanka Chopra has sparked controversy within the Bollywood industry through a recent interview in which she shared a troubling incident from her early career. The globally recognized icon revealed that during a stripping scene, a director had requested to see her underwear.
Recounting the incident, Priyanka explained that she was portraying an undercover agent and had intended to wear additional layers for the scene. However, the director insisted on showcasing her underwear, claiming that audiences would not be interested otherwise. This experience left Priyanka feeling dehumanized, prompting her to walk off the set and even reimburse the production for the two days of filming.
In another instance, Priyanka made headlines for her appearance on Alexandra Cooper's podcast, where derogatory remarks were made about her and her relationship with Nick Jonas. The episode has since been removed, but Alexandra had referred to Priyanka as a lesbian and criticized the couple for their public displays of affection.
Despite these controversies, Priyanka remains dedicated to her work in the entertainment industry. She recently starred in the romantic comedy-drama film "Love Again" alongside Sam Heughan, directed by James C. Strouse. The movie, released on May 5, 2023, received mixed reviews from audiences and critics.