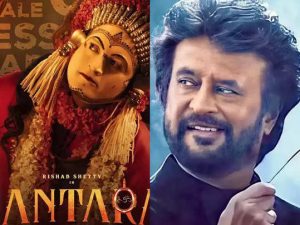 Rishab Shetty's Kantara was a massive hit and went on to break box office records and the audience is eagerly waiting for the second part which was announced a few months ago. Sources close to the production have revealed that the filmmakers are keen to have Rajinikanth on board for the project.
Also Read: The unfulfilled wish of Taraka Ratna
However, the superstar's busy schedule and his ongoing health concerns are said to be factors that are causing some uncertainty. Despite these concerns, fans are still hopeful that Rajinikanth will be a part of 'Kantara 2'. The movie is being directed by Rishab Shetty, who helmed the first installment of the series, and is being produced by Hombale films which produced the KGF series.
Also Read: Allu Arjun with Shahrukh Khan?
As of now, there is no official word on whether Rajinikanth will be a part of the prequel. However, fans are eagerly waiting for an announcement from the superstar or the film's production team, which is expected to put all speculation to rest.