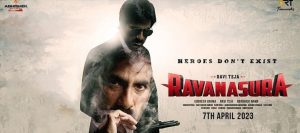 Cast: Ravi Teja, Sushanth, Megha Akash, Faria Abdullah, Daksha Nagarkar, among others.
Director: Sudheer Varma
Producer: Abhishek Nama
Music: Harshavardhan Rameshwar, Bheems Ceciroleo
"Mass Maharaj" Ravi Teja, who had struggled to find success for a while, recently made a comeback with his films "Dhamaka" and "Waltair Veerayya." His fans eagerly anticipate his upcoming film, "Ravana Sura," a crime thriller that promises an exciting experience.
In the movie, Ravi Teja plays the role of a criminal lawyer working alongside his ex-girlfriend Kanaka Mahalakshmi, played by Faria Abdullah. The story revolves around his interest in a woman named Harika, portrayed by Megha Akash, and a series of gruesome murders. The film explores themes of crime, justice, and redemption, offering the audience a thrilling experience.
Analysis:
The movie blends commercial drama with thriller elements, focusing on a series of murders. The first half of the film incorporates both commercial and thriller genres, but it lacks originality and feels formulaic. However, the movie becomes more intriguing as it progresses towards the interval, featuring a series of murders and sequences that captivate the audience.
The second half of the movie maintains the momentum and thrills of the first half, but the core plot is predictable and unoriginal. The illogical thriller elements become excessive and absurd, while the prosthetic makeup is unconvincing. The climax is reached in an illogical way, destroying the intrigue built up earlier. It would have been better if the law and criminal lawyer aspects of the plot had been more cleverly utilized.
Highlights:
Ravi Teja plays a negative role.
Pre-Interval scenes.
Post-Interval scenes.
Drawbacks:
Predictable storyline.
Illogical scenes.
Lack of thrills.

Verdict:
Overall, "Ravana Sura" is a decent commercial drama with some thriller elements. Certain aspects of the film provide intrigue, but the illogical and over-the-top proceedings undermine its impact. If you are a fan of Ravi Teja and would like to see him in a different role, you may watch the film, but it is advisable to keep your expectations in check.