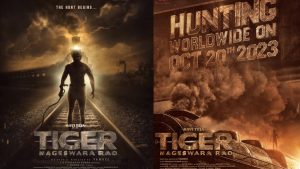 Ravi Teja, who recently had a disappointing outing with "Ravanasura," is now eagerly anticipating the release of his upcoming film "Tiger Nageswara Rao." Produced by Abhishek Agarwal Arts, the movie aims to revive Ravi Teja's career. The first-look poster and concept video of the movie was unveiled today during a grand launch event held at the iconic Havelock Bridge in Rajahmundry, where a train was hired for the occasion.
In the first look poster, Ravi Teja appears in a rugged avatar with a thick beard, resembling a ferocious tiger. Behind the bars, he exudes a powerful presence and unleashes a fierce roar. The concept video further introduces the world of "Tiger Nageswara Rao" through captivating visuals and the voiceovers of five renowned superstars in different languages. Venkatesh, John Abraham, Shiva Rajkumar, Karthi, and Dulquer Salmaan lent their voices to the Telugu, Hindi, Kannada, Tamil, and Malayalam versions respectively.

Set in the 70s, the story unfolds in the crime-infested village of Stuartpuram, situated in the coastal region of the Bay of Bengal. Known as the Tiger Zone or the crime capital of South India, the area strikes fear even in the darkest corners of the world. The character of Nageswara Rao, portrayed by Ravi Teja, is ruthless and unyielding, as depicted by his dialogue, "You might have seen a tiger hunting a deer? But have you ever seen a tiger hunting a tiger?"

Director Vamsee has meticulously chosen a compelling script that holds immense potential to strike big at the box office. The film boasts visually stunning cinematography by R Madhie, grand production values, and a terrific background score composed by GV Prakash Kumar. With the release of the first-look poster and concept video, curiosity among audiences across the nation is sure to be piqued.
To add to the anticipation, Nupur Sanon and Gayathri Bharadwaj have been cast as the leading ladies opposite Ravi Teja in the movie. With all eyes on its release, "Tiger Nageswara Rao" is slated to hit theaters worldwide on October 20th, marking a crucial milestone in Ravi Teja's career. He is pinning his hopes on this project to deliver a resounding success and redeem his recent setback with "Ravanasura."