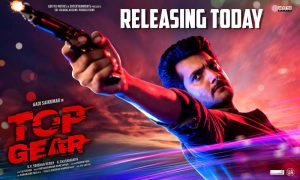 Starring: Aadi Sai Kumar, Riya Suman, Brahmaji, Mime Gopi, Satyam Rajesh
Director: Shashikanth
Producer: K.V.Sridhar Reddy
Music Director: Harshavardhan Rameswar
While the Tollywood heroes are struggling to have a release for at least two years, Aadi Saikumar has been releasing a movie every 3-4 months. Even though his movies are tanking at the box-office, Aadi Saikumar has been releasing movies in a row. After duds like Sashi, Athidi Devo Bhava, Black, Tees Maar Khan, and Crazy Fellow. Though he has been doing movies continuously, neither he nor the producers are taking a minimum effort to create the pre-release buzz for his movies. Once again, Aadi Saikumar has come up with a thriller Top Gear. Let's see if he can score a hit with this movie or not.
Story:
Arjun (Aadi Saikumar) is a middle-class guy who works as a cab driver and is newly married. On the other side, several murders happen in the city. The police through their investigation find that David is the man behind these serial killings but they are not aware of his identity. In an unfortunate incident, Arjun becomes an eyewitness to one of the murders that happened in the city. That night changes his fortunes forever and puts him along with his wife in trouble. How he escapes from the drug mafia and police and how did he save his wife form the rest of the story.
Plus Points:
Length of the movie
Cinematography
 Minus Points:
Lack of emotional connect
Story
Predictability
 Verdict:
On the whole, Top Gear is a passable crime thriller with a few interesting twists and thrills. Had the director focused more on the story and screenplay, the movie would've attracted at least a section of audience.