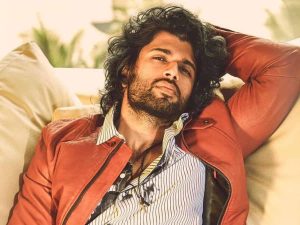 On his recent birthday, Vijay Deverakonda shared exciting updates on his upcoming films, signaling his intent to experiment with different genres. In his pursuit of a hit, the actor has shifted his focus to soulful dramas rather than action entertainers. Production has commenced on his latest project directed by Gowtam Tinnanuri, while the collaboration with Shiva Nirvana for Kushi has been well received.
❤️❤️❤️ https://t.co/394aTFcBo1

— Vijay Deverakonda (@TheDeverakonda) May 9, 2023
Fresh news has emerged about a new film featuring the Taxiwala director Rahul Sankrityan. Set in the backdrop of Rayalaseema, the film promises to bring a fresh approach to a genre that was once overused in Telugu cinema. Vijay Deverakonda and Rahul Sankrityan are currently in talks for the project, which will be produced by Mythri Movie Makers. After taking a break following Shyam Singha Roy, Rahul is expected to start working on the film with Vijay Deverakonda by the end of this year.
Good morning ❤️

I am away at shoot so planned a few things to celebrate with you all.

1. The Deverakonda Birthday Truck

Hyderabad, Vizag, Chennai, Bangalore, Mumbai, Pune & Delhi. If you spot these trucks anywhere. Ice cream is free for all ❤️

2. You all give me so much… pic.twitter.com/Wl4jefdAHx

— Vijay Deverakonda (@TheDeverakonda) May 9, 2023
It is worth mentioning that Vijay Deverakonda has not had a major hit since the success of Geeta Govindam in 2018. The actor is now seeking to revitalize his career by experimenting with fresh and innovative content. Fans are eagerly anticipating the release of his upcoming projects, excited to see how he will perform in his new genre films.