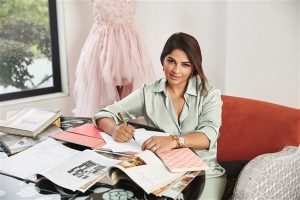 Viranica Manchu, the founder and creative director of Maison Ava, has recently announced the opening of the label in Harrods, the world's leading luxury department store. Born and educated in New York, Viranica developed a passion for design and luxury at a young age and pursued degrees in jewelry design, gemology, and fashion marketing.
After completing her studies, Viranica moved to India, her family's homeland, to broaden her experience in jewelry design. With her growing family, Viranica began her search for thoughtfully made occasion wear for her young children, but couldn't find the level of craftsmanship she was looking for. This led her to create their own party wardrobe, which quickly drew attention and enthusiasm, inspiring her to start Maison Ava.
Viranica's entrepreneurial spirit and love for fashion led her to build a fully operating atelier in India, where Maison Ava's creations are entirely made from start to finish. She is committed to preserving India's unique craftsmanship in weaving and embellishment and blending it with innovative style cuts and designs.
As a mother of four, Viranica knows the challenges of dressing children in fancy clothing and has placed children at the center of her designs. Her vision for Maison Ava is to create a brand that is loved as much by her young clientele as by the grown-ups who outfit them. Her dedication to craftsmanship and her unique vision for childrenswear has led to the success of Maison Ava, with the label now stocked in Harrods, a dream come true for Viranica.