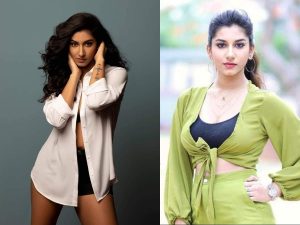 Vishnupriya, a popular anchor in Tollywood, has been making waves on social media with her delicate beauty and charming personality. Recently, she made headlines when she appeared on the game show Sixth Sense season 5 hosted by Omkar, along with Ravi. During the show, Omkar asked her about her love life, and she stunned everyone by confessing her love for a married hero, JD Chakraborty.
View this post on Instagram

Vishnupriya boldly stated that she had traveled with JD Chakraborty for 40 days in Mangalore for a web series and had proposed to him last year. She expressed her admiration for him and said that she was waiting for his response. She even said that if his mother agreed, she would be happy to go to their house as a daughter-in-law.
However, it was later revealed that JD Chakraborty had already been married since 2016 and had a family. Some netizens speculated that Omkar had asked Vishnupriya about her love life just to gain attention. Nevertheless, Vishnupriya's comments have caused quite a stir among her fans and followers, and many are eagerly waiting to see what the future holds for her love life.