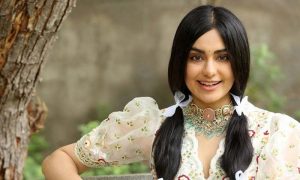 Bollywood actress Adah Sharma, who gained popularity for her role in The Kerala Story, recently met with a minor road accident while receiving death threats related to the film's controversy. Adah took to Twitter to reassure her fans that she was doing well and that the accident was not serious. She expressed gratitude for the concern shown by her followers.
The Kerala Story has faced criticism from certain political parties and groups who claim that it promotes hatred against the Muslim community and is not based on factual events. The film has been banned in West Bengal by Chief Minister Mamata Banerjee.
I'm fine guys . Getting a lot of messages because of the news circulating about our accident. The whole team ,all of us are fine, nothing serious , nothing major but thank you for the concern ❤️❤️

— Adah Sharma (@adah_sharma) May 14, 2023
Despite the challenges, Adah Sharma thanked the audience for making The Kerala Story a blockbuster and becoming the highest-grossing film featuring a female lead in its first week. She acknowledged the various obstacles faced, including attempts to discredit her sincerity and integrity, and the film's ban in some states. Nevertheless, she praised the audience for their support and announced plans for an international release.
Produced by Vipul Shah and directed by Sudipto Sen, The Kerala Story has been performing exceptionally well in theaters and is expected to cross the Rs 130 crore mark within two weeks of its release. The film tells the story of Hindu women from Kerala who were allegedly converted to Islam and trafficked to ISIS.
Despite the controversies and challenges, Adah Sharma remains resilient and grateful for the audience's support throughout her journey.