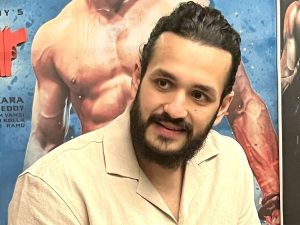 Akhil Akkineni, who had a dream launch in the film industry but failed to live up to the high expectations of his fans, has expressed his hope of scoring a blockbuster with his latest film, Agent. He acknowledged that his debut coincided with the rise of social media, resulting in overexposure, which affected his performance. In a recent interview with Great Andhra, Akhil clarified that he prefers to work on large-scale projects and collaborate with renowned filmmakers who approach him. He emphasized the importance of working with like-minded individuals.
Despite feeling disappointed about his debut film's failure, Akhil has a positive relationship with his father and considers him a good friend. He also noted his mother's positive outlook on everything. Regarding his latest film, Akhil initially had reservations about the script but found the right balance, ensuring that the film's emotional content would resonate with Telugu audiences. He promised a mix of drama in the second half.
Akhil takes self-criticism seriously and regularly analyzes his performances to improve and receive positive feedback from others. He desires to experiment and take on challenging roles without fear, believing that the audience is ready for it. With Agent, he hopes to score a blockbuster and win over his fans' hearts.