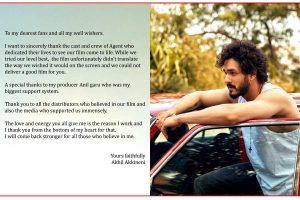 Recently, there has been a notable change in the behavior of movie stars when it comes to the success or failure of their films. It has become more common for them to openly admit and apologize for delivering a flop movie, a departure from the earlier practice of celebrating a film's release regardless of its outcome.
One such example is Akhil Akkineni, who openly acknowledged delivering a disaster while expressing gratitude to the team involved.
View this post on Instagram
This is what he said in his letter.
"To my dearest fans and all my well-wishers. I want to sincerely thank the cast and crew of Agent who dedicated their lives to seeing our film come to life. While we tried our level best, the film unfortunately didn't translate the way we wished it would on the screen and we could not deliver a good film for you."
"A special thanks to my producer Anil Garu who was my biggest support system. Thank you to all the distributors who believed in our film and also the media who supported us immensely. "
The love and energy you all give me is the reason I work and I thank you from the bottom of my heart for that. "I will come back stronger for all those who believe in me."
It remains to be seen whether this trend will continue or come to an end. In some cases, directors may discuss the reasons behind a movie's failure in interviews years later, similar to Meher Ramesh revealing the reasons for the failure of "Shakti." However, by that time, it may be too late to address the consequences of the film's outcome.
View this post on Instagram