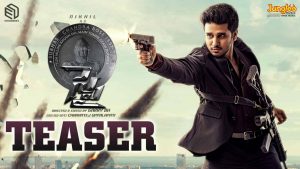 Nikhil Siddharth, who is riding high after the massive success of Karthikeya 2, is all set to captivate audiences once again with another Pan India spy thriller. Titled "Spy," the film is directed by the popular editor Garry BH and promises to unveil India's best-kept secret—the hidden story of Subhash Chandra Bose.
The teaser of the film was unveiled at the historic Subhash Chandra Bose statue at Kartavya Path in New Delhi, adding a touch of authenticity and significance to the project. In "Spy," a team of Indian special agents delves into the files of Netaji and the Indian National Army created by the valiant freedom fighter Azad Hind Fauj.
Nikhil takes on the role of a spy who is chosen to unravel India's secret history. The head of the agency dismisses Netaji's reported death in a plane crash as a cover-up story and entrusts Nikhil's character with the responsibility, declaring, "Our history is in your hands."
The teaser reveals the nation's curiosity and eagerness to know the truth about what actually happened to Netaji, hinting that the film will provide answers to these longstanding questions. Alongside Nikhil, the teaser also showcases the talented cast, including Iswarya Menon, Aryan Rajesh, Abhinav Gomatam, and Makrand Deshpande, further adding to the excitement surrounding the project.
Produced by K Raja Shekhar Reddy under the Ed Entertainments banner, "Spy" boasts a high budget, indicating the grand scale and production values audiences can expect. The teaser has successfully piqued the curiosity of viewers, and the film is eagerly anticipated for its Pan India release on June 29th, promising an enthralling spy thriller experience.