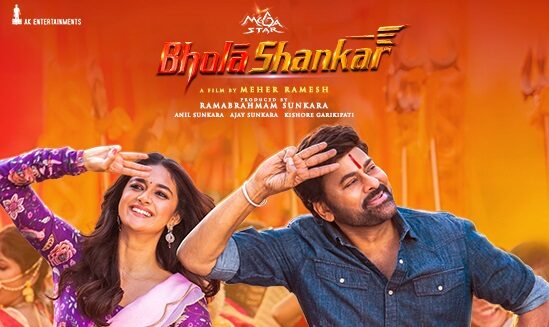 Starring: Chiranjeevi, Tamannaah Bhatia, Keerthy Suresh, Sushanth, Raghu Babu, Murali Sharma, Ravi Shankar, Vennela Kishore, Tulasi, Sree Mukhi, Bithiri Sathi, Satya, Getup Srinu, Rashmi Gautam, Uttej, and others
Director: Meher Ramesh
Producers: Ramabrahmam Sunkara, Anil Sunkara, and Ajay Sunkara
Music Director: Mahati Swara Sagar
Megastar Chiranjeevi returns to the big screen with 'Bholaa Shankar,' marking his collaboration with director Meher Ramesh after a ten-year gap. The movie boasts an ensemble cast featuring renowned names like Tamannaah Bhatia and Keerthy Suresh. In this review, we analyze the film's positives and negatives to provide an overall perspective.
Story:
In 'Bholaa Shankar,' the narrative revolves around Shankar (Chiranjeevi), a taxi driver, and his sister Mahalakshmi (Keerthy Suresh), who relocate to Kolkata for her education. Amidst their journey, a ruthless mafia gang led by Alex (Tarun Arora) gains notoriety for kidnapping girls in the city. Shankar intervenes in one such incident, sparking a tense rivalry with Alex. The film delves into Shankar's mysterious past and the ensuing battle against the criminal syndicate.
Positives:
Chiranjeevi's magnetic appeal and his strong connection with his fan base shine through in his impactful performance. His seamless shifts between intense action sequences and heartfelt emotional moments continue to enthrall audiences.
Keerthy Suresh's portrayal adds depth to her character, with her impressive handling of emotional scenes showcasing her acting prowess.
Despite limited screen time, Tamannaah Bhatia leaves a lasting impression with her charismatic presence, contributing to the film's overall impact.
The well-executed action sequences and skillful cinematography by Dudley enhance the film's visual spectacle, particularly in high-octane fight sequences.
Negatives:
The film's plot falls into the trap of conventionality, lacking the innovation and freshness needed to stand out.
Director Meher Ramesh's efforts to maintain an engaging pace and weave a compelling screenplay appear inadequate, resulting in moments of disinterest.
Music and dance elements, usually anticipated in a Chiranjeevi film, disappoint, failing to leave a significant mark due to Mahati Swara Sagar's score.
The surplus of characters doesn't always contribute effectively to the narrative, leaving some talented actors like Uttej, Raja Ravindra, and Brahmaji with limited room to shine.
Tamannaah Bhatia's role feels underutilized, depriving the audience of her full potential. While comedic scenes are present, they lack the finesse required to captivate family audiences.
Verdict:
Overall, 'Bholaa Shankar' offers a moderate action-drama experience, buoyed by the commendable performances of Chiranjeevi and Keerthy Suresh. The film's intermittent comedy and two halves help maintain viewer engagement. However, an excess of irrelevant scenes and a sluggish screenplay hinder its overall impact. Prospective viewers are advised to temper their expectations, as the film falls short of delivering the standout Chiranjeevi cinematic experience one might hope for.