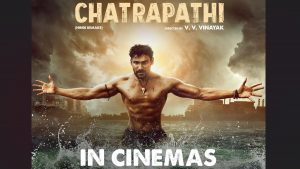 Cast: Bellamkonda Sreenivas, Nushrratt Bharuccha, Bhagyashree, Sharad Kelkar, Karan Singh Chhabra
Director: VV Vinayak
Bellamkonda Sreenivas who is struggling for a hit for the past few years trying his luck in Bollywood after some of his movies which got dubbed into Hindi garnered millions of views on YouTube. Let's see whether he can get the desired success in Bollywood or not.
Analysis:
Chatrapathi, which marks Sreenivas Bellamkonda's debut in Bollywood, is a movie that lacks originality. Not only is it a remake of the Telugu film of the same name by S.S. Rajamouli in 2005, but also the stale screenplay by A. Mahadev and Director V.V. Vinayak's uninspired approach leaves the viewers feeling as though they have seen this story countless times before.
While the original Chatrapathi was successful due to Rajamouli's flamboyant vision, this remake falls short of his previous work. Unfortunately, in the film industry, once a filmmaker becomes a box office hit, producers will try to resell their old works to unsuspecting audiences. Despite the availability of the Hindi-dubbed version of Chatrapathi on the internet, the filmmakers have remade the 2005 film in 2023 without any reimagination, making the final product feel dated and reminiscent of a dubbed version.

The original had the potential to generate a melodramatic swell with its Nirupa Roy-type mother, the selfless brother caring for his cunning step-sibling, and the plight of migrants. However, the facile treatment of the subject matter leaves the audience feeling disconnected. The movie is full of sound and fury, and the violence becomes extreme, but the action choreography lacks the emotional hook needed to keep the audience invested.
The camera continually seeks out cleavage and focuses on biceps and snarling faces, with every emotion in the film treated as an 'item.' It is easy to predict the loop of action, dialogue, and song sequences.
Unfortunately, Bellamkonda Sai Sreenivas lacks the charismatic screen presence of Prabhas, making it challenging for the audience to forget the shortcomings in the screenwriting and root for Shiva's rise against the odds. He performs his role well but lacks depth.
Nushrratt Bharuccha adds a spunky touch to the movie, but her presence is limited to three songs and perhaps two-and-a-half scenes. Similarly, Sharad Kelkar as the villain deserved more screen time to showcase his talent, and Bhagyashri, who plays the hapless mother, fails to embody the character's essence, making it difficult for the audience to connect with her.
Verdict:
In summary, the film lacks engaging characters and a compelling storyline, rendering it an outdated action movie.