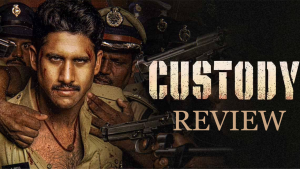 Cast: Naga Chaitanya, Krithi Shetty, Arvind Swamy, Sampath, Sharath Kumar, Priyamani, Vennela Kishore, and others
Director: Venkat Prabhu
Producers: Srinivasa Chitturu
Naga Chaitanya, who has been trying to establish himself as an action hero since his debut, is back with an action movie "Custody". Let's see if he has finally scored a hit or not.
Story:
Custody" follows the story of Shiva, a young and honest constable played by Naga Chaitanya, who gets caught up in a conflict between the CBI and the Mafia. Along with the CBI officer played by Sampath, a hitman named Raju played by Arvind Swamy, and a corrupt police officer played by R. Sharat Kumar, Shiva is compelled to follow them. The remainder of the plot focuses on the reasons why both groups are pursuing Mr. Raju and how the chase plays out.
Analysis:
Directed by Venkat Prabhu, "Custody" failed to meet the high expectations set by the director's past successful films. The story, set in 1996 and revolving around a bomb blast that killed 40 people, fails to impress. The introduction of the protagonist and his love interest falls flat, and the attempted comedy fails to land. It's not until the characters of Raju, the CBI officer, and Sarath Kumar enter the scene that the film starts to pick up some pace. However, the low-budget chasing sequences fail to leave any impact.
The film's second half begins with the backstory of Shiva's family, but it fails to add any significant value to the plot. The film seems to drag on with the rogue cops chasing Raju. The film's technical aspects are also lacking, with poor background score and bad songs. The film's biggest drawback is its patchy production values. Although the casting is impressive with many reputed artists, the weak script mars their performances. The film lacks entertainment value and even fails to deliver adequate action. At some point, the film feels like a Tamil film with a few Telugu actors. Venkat Prabhu failed to deliver a cohesive product, missing his signature flavor in this bilingual attempt.
The performances of Naga Chaitanya are commendable, but the characterization and getup of Aravind Swamy are irritating. Krithi Shetty is adequate in her role, while Priyamani, Sampath, and R. Sarathkumar play the other main characters with average performances.
Positives:
Impressive casting
Chasing scenes
Negatives:
Weak script and direction
Lack of entertainment
Poor technical aspects and patchy production values
Verdict:
"Custody" is a disappointing watch that requires a lot of patience to sit through. Despite the impressive cast, the movie fails to deliver even average content. The repetitive chase sequences involving the same trio of characters become tedious, and the flashback family story is nothing new. The movie feels more like a Tamil film, with only a few Telugu actors present. In terms of technical aspects, all crafts, including background score, songs, and production values, fail to impress. Overall, "Custody" fails to live up to its expectations and is not recommended.