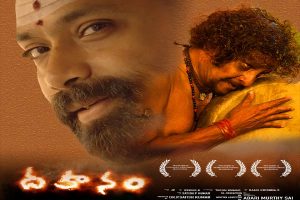 Starring: Aditya Om, Sony Reddy, FM Babai, Santhi Chandra, Rajiv Naik
Director: Adari Murty Sai
Producers: Dr. Satish Kumar Pethakamsetty
Music Director: Satish Kumar
The much-awaited independent film 'Dahanam' starring Aditya Om in the lead role and directed by Adari Murty Sai has finally been released. The film has won several awards at international film festivals and has created a buzz among moviegoers.
Story:
Set in the 1980s, Dahanam follows the story of Bharadwaj Sastry (Aditya Om), a temple priest facing numerous challenges including a decrease in the temple's income and a legal battle to protect the temple's interests. The film explores how Bharadwaj Sastry overcomes these obstacles and navigates the complexities of his life.
Plus Points:
Dahanam addresses multiple social issues including untouchability and social inequalities, with a well-executed depiction of caste issues and exclusion from temples. Aditya Om delivers a convincing performance as Bharadwaj Sastry and FM Babai also shines in his role. The dialogues are well-written, and the execution of Bharadwaj Sastry's character arc is nicely done.
Minus Points:
The film's narration is slow-paced and lacks commercial elements, making it potentially boring for some audiences. Additionally, many repetitive scenes could have been trimmed. Dahanam shares similarities with the old Telugu film "1947 Lo Oka Gramam," but lacks the same punch due to its plain narration.
Verdict:
Dahanam is a period drama that tackles social issues and stubborn beliefs in society. While Aditya Om and FM Babai deliver noteworthy performances, the slow pace and specific subject matter may not appeal to all audiences. Overall, Dahanam can be considered an average watch for the weekend.