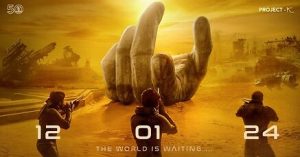 The upcoming film "Project K," directed by Nag Ashwin and featuring superstar Prabhas in the lead role, is highly anticipated in the Indian film industry. With rumors of a record-breaking budget, the movie is generating excitement among fans worldwide.
Set in a futuristic world, the movie boasts a star-studded cast that includes Deepika Padukone, Disha Patani, and Amitabh Bachchan. There are whispers of a storyline set during the Third World War, with characters from the Indian epic Mahabharata reimagined in a futuristic setting, exploring the links between past, present, and future.
Fans are especially curious about Prabhas' role, which is rumored to be similar to that of Superman, with posters hinting that hands will be significant to the plot. The decoding of the title, which may reference Project Krishna or Project Karna, has also sparked speculation.
Overall, "Project K" is an ambitious and exciting project that could change the game in Indian cinema. With fans eagerly awaiting the film's release, the movie has the potential to push the boundaries of the industry.