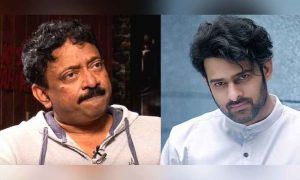 Ram Gopal Varma, also known as RGV, is a filmmaker who has been a prominent figure in the Indian film industry for over three decades. He is known for his controversial films and unapologetic attitude towards his work. However, in recent years, RGV has faced criticism for his lackluster films and diminishing quality of work.
Despite this, RGV has recently made headlines for his role in Prabhas' upcoming movie directed by Maruthi. According to reports, RGV will be seen in an important role in the film, and his scenes have already been shot.
This news has generated mixed reactions among fans and the film fraternity. While some are excited to see RGV on the big screen again, others are skeptical about his involvement in the film.
It is no secret that RGV's recent films have not been up to the mark. His last few releases, including Climax and Power Star, were heavily criticized for their poor quality and lack of creativity. Many have even called out RGV for his repetitive themes and unimpressive storytelling.
Despite this, RGV remains a prominent figure in the industry, and his contribution to Indian cinema cannot be overlooked. He has directed some of the most iconic films of Indian cinema, including Satya, Rangeela, and Sarkar.
RGV's involvement in Prabhas' upcoming movie has raised expectations for the film. Maruthi, the director of the film, is known for his commercially successful movies, and fans are hoping that RGV's inclusion will add a new dimension to the film.
It is still unclear what role RGV will be playing in the movie, but reports suggest that his character will be a crucial one. Fans are eagerly waiting for the film's release to see how RGV's role will pan out.