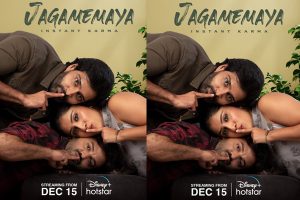 Starring: Dhanya Balakrishna, Chaitanya Rao, Teja Ainampudi, Prithviraj
Director: Sunil Puppala
Producers: Uday Kola, Vijay Sekhar Anne
Music Director: Ajay Arasada
Of late, the demand for crime thrillers has increased and several filmmakers are attempting this genre. With releasing in theatres for small films becoming a herculean task, filmmakers are opting for web movies. The recent one to hit OTT is the Telugu crime thriller Jagame Maya (Instant Karma), starring Dhanya Balakrishna, Chaitanya Rao, and Teja Ainampudi in lead roles. The movie is released on Disney Plus Hotstar today. Let's see how the movie is.
Story:
Anand (Teja Ainampudi) is a conman. He leads his life by blackmailing people for money. One day, he comes across Chitra (Dhanya Balakrishna), a widow who lost her husband Ajay (Chaitanya Rao) in a car accident. In course of time, Anand and Chitra develop a liking for each other and they get married. After a few days of their marriage, Anand comes to know something scary about Chitra. What's that, who is Chitra and what she did next forms the rest of the story.
Plus Points:
Dhanya Balakrishna who did the roles of the heroine's friend in many movies has occasionally done the roles of a female lead. She is a good actress and it has been proven yet again with this movie. Dhanya's performance in the first half is quite opposite to that of the second half. She balanced the role with her subtle performance.
Budding actor Teja Ainampudi is a perfect choice for the role his comic timing is his biggest asset and it somehow made the film a watchable one. Chaitanya Rao's character is also important in the film and he is just fine in the role given.
Minus Points:
The major drawback in this crime thriller is the story. Director Sunil Puppala fails to make Jagame Maya an engaging thriller. The movie could have been made intriguing by infusing some twists and turns but unfortunately, he couldn't. With no expected twists, the movie becomes a mediocre one. One can easily predict the proceedings of this movie, which failed to engage the audience.
Verdict :
On the whole, Jagame Maya is an amateurish attempt by the director. It is a non-engaging thriller that fails to enthrall the audience. Dhanya Balakrishna and Teja Ainampudi are good in their respective roles.