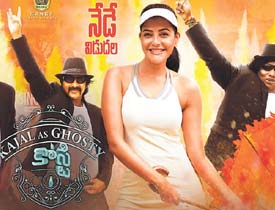 Starring: Kajal Aggarwal, K.S.Ravikumar, Yogibabu, Oorvasi, Radhika Sarathkumar, Redin Kingsley, Thangadurai, Adukalam Naren, Manobala, Motta Rajendran and others
Director: Kalyaan
Producers: Seed Pictures
Music Director: Sam CS
Kajal Aggarwal's highly anticipated film "Khosty," which is the dubbed version of "Ghosty," has finally hit theaters. If you're wondering whether this movie is worth watching or not, read on for our review.
Kajal Aggarwal plays Inspector Aarthi in Khosty, a movie about her mission to capture a criminal named Das, who her father had arrested twenty years ago. In the process, she accidentally kills an innocent bystander named Jai, and subsequently experiences strange and bizarre occurrences in her life. The movie explores the reason behind these events and whether they are related to Jai or someone else. To uncover the truth, you'll have to watch the film.
Plus Points:
Kajal Aggarwal impresses the audience with her acting skills in some scenes. Comedian Yogi Babu's clever one-liners provide much-needed comic relief in the film. KS Ravi Kumar's portrayal of a gangster is unexpectedly humorous, adding a unique twist to his character. Actor Jai's cameo appearance is noteworthy despite being on-screen for only five minutes.
Urvashi delivers a satisfactory performance in her role, and comedian Rajendran's performance is well-suited to his character, eliciting some laughs from the viewers.
Minus Points:
This movie is likely to leave viewers questioning why Kajal Aggarwal accepted the role, as it falls short in both its attempts at scares and laughs. While Aggarwal is striking on-screen, her lackluster performance cannot rescue the film from its disappointing execution.
The plot is poorly constructed, with viewers left confused and uncertain of the director's intentions. The "horror" scenes are outdated and fail to elicit fear, often coming across as unintentionally comical. The emotional aspect of the film is similarly unsatisfying.
Director Kalyaan deliberately creates gaps in the plot, particularly in the scenes featuring KS Ravi Kumar, making it difficult for audiences to follow the storyline. Furthermore, the plot twist in the latter half of the film falls flat and fails to impress.
With only one forgettable song, the excessive use of makeup on Kajal and Ravi Kumar's faces serves as a distraction, feeling unnecessary and taking away from the viewing experience.
Verdict:
In conclusion, "Khosty," starring Kajal Aggarwal, disappoints viewers in terms of both horror and comedy. The movie's lackluster screenplay and writing contribute to its dullness, and Kajal Aggarwal's star power cannot save it. The film's failure to live up to its genre.