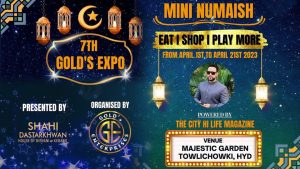 Hyderabad, the city of pearls, is famous for its rich culture, heritage, and mouth-watering cuisine. One of the most popular events in the town during Ramzan month is the Numaish, in the streets of Charminar a carnival-like festival that brings together food, shopping, games, and entertainment under one roof, from a century.
This Ramzan Mini Numaish is an event organized by Mr. Javed Mohammad and Mr. Salman of Gold Enterprises that takes place at Majestic Garden in Towlichowki, Hyderabad. It is a one-stop shop for all your needs, where you can indulge in food, shopping, games, and entertainment. The event will be held from 1st April to 21st April 2023.
The Ramzan Mini Numaish offers a variety of delicious foods from different regions of India, as well as international cuisines. You can taste mouth-watering street foods, traditional dishes, and desserts to satisfy your taste buds. From spicy kebabs to sweet jalebis, you'll find a range of options to choose from.
In addition to food and shopping, the event also offers various fun-filled games and activities for all age groups. You can try your luck at carnival games, ride the Ferris wheel, or enjoy a variety of other rides and attractions.
The Mini Numaish also hosts live music and cultural performances by local artists, providing a delightful ambiance for visitors. The event is a perfect family outing and a great opportunity to spend quality time with your loved ones in the sacred month of Ramzan fasting.
The event is organized with the utmost care and safety precautions in mind, ensuring that visitors have a hassle-free and enjoyable experience. The organizers ensure that all vendors follow safety protocols to prevent the spread of COVID-19. We wish the event great success.