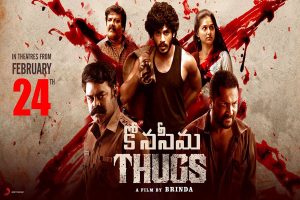 Starring: Hridhu Haroon, Bobby Simha, Munishkanth, RK Suresh, Anaswara Rajan, Sarath Appani, PL Thenappan
Director: Brinda
Producers: Riya Shibu and Mumthas M
Music Director: Sam CS
With the Sankranthi season over and no big-budget star movies around the corner, small-budget movies are getting released every week, and here's another movie Konaseema Thugs which hit the theatres amidst decent buzz. Let's what is the story all about.
Also Read: SIR Movie Review
Story:
The film Konaseema Thugs tells the story of Seshu (played by Hridhu Haroon), who ends up in jail in the Kakinada district under unexpected circumstances. In jail, he meets Dhora (played by Bobby Simha) and Madhu (played by Munishkanth). Seshu plans to escape from prison with the help of a few other inmates. The reasons why Seshu wanted to leave the jail and whether he succeeded in his escape plan along with the other inmates form the crux of the story.
Analysis:
The direction by Brinda is impressive, and the screenplay by Shibu Thameens keeps the audience engaged throughout the movie. Hridhu Haroon delivers a realistic performance as the lead actor, while Bobby Simha and Munishkanth also deliver commendable performances. The action sequences and their choreography are top-notch and add to the film's overall appeal. The camera work and background score are also noteworthy.
Also Read: Amigos Movie Review
On the downside, the story is predictable at times, and the second half is a bit dull compared to the first half. The female lead Anaswara Rajan's character has not much importance in this flick. Moreover, the film lacks proper emotional depth and compelling backgrounds for the main characters.
Verdict:
Overall, Konaseema Thugs is a decent watch for fans of crime thrillers, and the film's technical aspects are noteworthy. The film may not be everyone's cup of tea, but it is a mass action thriller that will engage audiences.