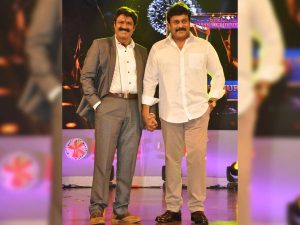 Multistarrer movies were quite common till the early 1980s in Telugu cinema. However, the trend eventually faded away from the 1990s till the 2010s. There was not even a single multistarrer when Chiranjeevi, Nagarjuna, Balakrishna, and Venkatesh were ruling Tollywood.
Also Read: Rajinikanth in Kantara 2?
However, the trend was re-introduced with Seethamma Vaakitlo Sirimalle Chettu movie and multistarrer movies are on the rise again in Tollywood. As per the sources, Allu Arvind, the renowned film producer in the Telugu film industry, is reportedly planning to bring two of the biggest stars, Chiranjeevi and Balakrishna, together on the big screen. The news of the multistarrer project has created a buzz in the industry and among the fans of both actors.
Also Read: Unfulfilled desire of Taraka Ratna
Chiranjeevi and Balakrishna have been ruling the Telugu film industry for decades and have a massive fan following. They have acted in several successful films, but they have never shared screen space together. This project will be a dream come true for their fans who have been eagerly waiting to see them together.
The multistarrer project is still in the planning stages, and the details of the story and the cast are yet to be finalized. However, the news of the project itself has created a lot of excitement and speculation among the fans of both star heroes.