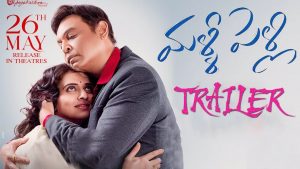 The upcoming Telugu movie "Malli Pelli", featuring leading actors Naresh and Pavitra Lokesh, is scheduled to release in theaters on May 26, 2023. To promote the movie, the makers have unveiled the theatrical trailer, which appears to deliver on the anticipation created by the teaser.
The trailer presents a captivating narrative of twists and turns in the personal lives of Naresh and Pavitra Lokesh, with impressive production values and a decent score. MS Raju has skillfully designed the characters of both actors, with Naresh looking fittingly cast as a superstar, and Pavitra Lokesh playing her part with proficiency. The other cast members also appear convincing in their respective roles.
Besides Naresh and Pavitra Lokesh, the movie features Jayasudha, Sarathbabu, Ananya Nagalla, Roshan, Vanitha Vijaykumar, Annapurna, Adduri Ravi Varma, and others in pivotal roles. The movie is written and directed by the noted producer MS Raju and produced by Naresh under the banner of Vijaya Krishna Movies. The music is composed by Suresh Bobbili and Aruldev.
Overall, the storyline appears intriguing and engaging, making Malli Pelli a highly anticipated release.