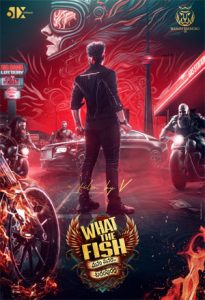 Manchu Manoj is undoubtedly one of the finest talents in Telugu cinema. The actor who delivered some memorable movies has been on away from movies for a quite long time. The actor hasn't released any movie after Okkadu Migiladu. 
Also Read: Balakrishna tenders public apology
Manoj, who has been on a 6-year hiatus, is making a comeback into movies with a new movie that has been officially announced today. Directed by the debutant Varun the movie titled What The Fish with Manam Manam Barampuram is the tagline the movie.
It's been a long time since I did any film but I'm blessed to have had all your love upon me all these years and it's high time to give back all the Love ❤️

Here's Announcing my NEXT❤️🚀 #WhatTheFish 🤪🥸🤩🥳😎💫

A crazy film that'll give you all a CRAZYYYYY experience 🙂 pic.twitter.com/tUx7SofoRu

— Manoj Manchu🙏🏻❤️ (@HeroManoj1) January 20, 2023
"What The Fish is a sincere attempt to bring you a visually aesthetic rib-tickling heart-throbbing blend of dark comedy and high-octane thrilling family entertainer. The project comes from a sincere attempt to show culturally routed Indian content internationally," said director Varun.
Also Read: Samantha about her struggles
The movie's shooting will take place in Toronto and various locations across Canada for 75 days. Produced by 6ix Cinemas, the movie will be mounted on a large scale with high production values and top-notch technical standards. More details about the cast and other crew members will be announced soon.