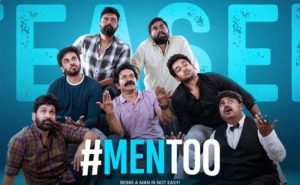 Starring:
Naresh Agastya as Aditya
Kaushik Ghantasala as Sanju
Mourya Siddavaram as Munna
Harsha Chemudu as Rahul
Riya Suman as Tara
Priyanka Sharma as Supporting Character
Ashritha as Supporting Character
Brahmaji as Supporting Character
Sudharshan as Supporting Character
Jabardasth Rohini as Supporting Character
Karthik Adusumilli as Supporting Character
Director: Srikanth G Reddy
Producer: Mourya Siddavaram
Music Director: Elisha Praveen G & Osho Venkat
Cinematography: PC Mouli
Editor: Karthik Vunnava
Synopsis:
Men Too revolve around the lives of three friends, Aditya (Naresh Agastya), Sanju (Kaushik Ghantasala), and Munna (Mourya Siddavaram), who frequent a pub called "Stags Only." One day, they encounter Rahul (Harsha Chemudu), an IT employee who lost his job due to allegations of sexual harassment. The shocking decision Rahul makes leaves everyone perplexed. Did Rahul truly commit the offense he's accused of? The film delves into the answers to these questions.
Positive Aspects:
Naresh Agastya delivers a commendable performance, once again showcasing his versatility in portraying diverse characters.
Mourya Siddavaram's portrayal of Munna, a mechanic with a cynical view of women, brings humor and wit to the narrative.
Harsha Chemudu leaves an impact with his significant role, particularly in the second half.
Kaushik Ghantasala also handles his role well, adding depth to the character. The film features well-written dialogues and visually appealing scenes, especially in the first hour.
Negative Aspects:
Director Srikanth G Reddy attempts to tackle a crucial issue faced by some men in real life, aiming to present it in a humorous manner. However, the execution falls short of expectations.
The exploration of the lead characters' problems lacks engagement, and their backstories fail to captivate the audience. The simplicity of the story and the insufficient discussion of the main theme in the second half are notable drawbacks.
The film's music, aside from the song "It's Her Choice," is unimpressive. Female characters appear underutilized, with Riya Suman having limited scope to perform. The inclusion of unnecessary characters played by Priyanka Sharma, Ashritha, and Jabardasth Rohini, as well as the underdeveloped roles of Brahmaji and Sudharshan, further weaken the overall impact.
Technical Aspects:
The director's execution of the main theme lacks engagement, with the screenplay fails to elevate the film's fate. While the cinematography is neat and the music is passable, the editing could have been tighter, as some scenes feel unnecessarily prolonged. The production values are decent, and the film benefits from its relatively short runtime.
Verdict:
Men Too prove to be a slightly disappointing film, offering only a few humorous scenes that provide some enjoyment. The performances by the lead actors, particularly Mourya Siddavaram's comedy, are the film's strengths. However, the primary theme fails to be effectively explored, and the sluggish screenplay in the second half, coupled with unnecessary scenes, makes it an underwhelming watch. If you plan to watch the film, it's advisable to keep your expectations low.