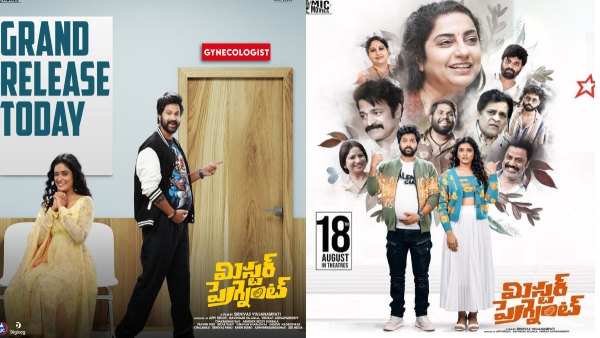 Starring: Syed Sohel Ryan as Gautham, Roopa Koduvayur as Mahi, Suhasini Manirathnam
Raja Ravindra, Brahmaji, Ali, Harsha, Abhishek Reddy Bobbala, Swapnika
Director: Srinivas Vinjanampati
Producers: Appi Reddy, RaviReddy Sajjala, Venkat Annapareddy, Music Directors: Shravan Bharadwaj
Story:
"Mr Pregnant" follows the story of Gautham (Syed Sohel Ryan), a renowned tattoo artist, who initially dismisses Mahi's (Roopa Koduvayur) affection for him. However, he eventually reciprocates her feelings with a condition – no children. Despite her love for babies, Mahi agrees, and they marry. The story takes an unexpected turn when Mahi becomes pregnant. Struggling with his aversion to kids, Gautham makes a surprising decision – he will carry the baby himself. The film explores the reasons behind his bold choice, its consequences, and the societal and parental reactions.
Positives:
Unique Concept: The film stands out in Tollywood for its uncommon and daring concept, earning praise for its distinctive storyline.
Sohel's Performance: Syed Sohel Ryan, known for his appearance on Bigg Boss Telugu S4, impressively takes on the challenging role. His restrained and improved acting is commendable.
Roopa's Role: Roopa Koduvayur shines as Mahi, portraying both a hyperactive teen and an emotional mother effectively.
Supporting Cast: Suhasini Manirathnam, Harsha Chemudu, and Brahmaji contribute significantly to the film's impact with their performances.
Negatives:
Unconventional Concept: The unique concept may not resonate with all viewers, potentially affecting the film's reception.
Emotional Depth: The director, Srinivas Vinjanampati, could have focused more on evoking emotional depth, particularly in a story involving parenthood.
Direction Impact: While efforts were made by the dialogue writer and music composer, the director's responsibility in creating impactful emotional scenes is emphasized.
Underdeveloped Characters: Characters such as Raja Ravindra, Avinash, and Ali have minimal presence and do not significantly contribute to the overall narrative.
Verdict:
"Mr Pregnant" is an emotional drama that manages to strike a chord to some extent. Syed Sohel Ryan and Roopa Koduvayur deliver commendable performances, while Brahmaji's comedic touch adds to the film's appeal. Although the story's freshness is evident, the film's direction could have been less predictable. A more engaging first-half screenplay could have enhanced the overall experience. If you're open to these considerations, watching "Mr Pregnant" in theaters this weekend could be a worthwhile choice.