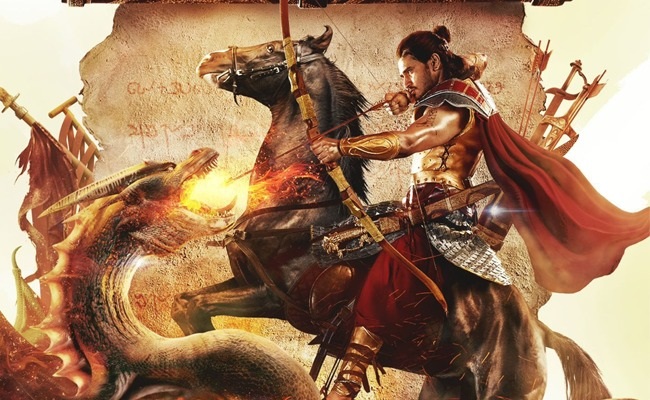 On his birthday, Nikhil unveiled the captivating first-look poster for his 20th film titled "Swayambhu," which generated a lot of excitement. The movie will mark the directorial debut of Bharat Krishnamachari.
Actress Samyuktha Menon, known for her consecutive successes in Telugu films including "Bheemla Nayak" alongside Pawan Kalyan, has been confirmed to portray Nikhil's love interest in the movie.
The film's grand inauguration took place today, coinciding with the commencement of its regular shooting schedule. The production team made this announcement accompanied by a stunning poster.
In the poster, Nikhil is depicted as a warrior astride a horse, armed with a bow and arrow, taking aim at a dragon. His portrayal showcases him flawlessly embodying the role of a warrior, complete with long hair and authentic combat attire.
"Swayambhu" promises to be an epic journey delving into the life of a legendary warrior. Nikhil has embraced a comprehensive transformation to convincingly portray this demanding character. This metamorphosis involves not only physical changes but also intense training to acquire the necessary skills of a warrior.
The film will be jointly produced by Bhuvan and Sreekar under Pixel Studios, with Tagore Madhu serving as the presenter. Ravi Basrur will compose the musical score, while Manoj Paramahamsa will be in charge of cinematography for this ambitious Pan India project.