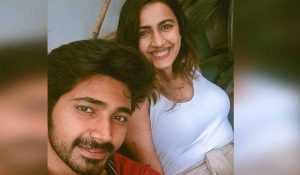 There appears to be a trend of short-lived marriages within the Mega family, with issues in Chiranjeevi's household being widely known, and Pawan Kalyan's breakups being publicly documented.
Now, rumors are suggesting that Nagababu's daughter Niharika and son-in-law Chaitanya may also be facing issues in their marriage.
While these rumors have been circulating for some time, recent social media activity has added fuel to the fire. Niharika has been conspicuously absent from social media, and Chaitanya is no longer seen in Mega family photos. Additionally, there are reports that the couple has unfollowed each other on social media and that Chaitanya has deleted several older posts from his account.
Without further information, it is impossible to draw any definitive conclusions. However, it is worth noting that Nagababu is planning to marry his son Varun Tej later this year, although there has been no official confirmation of this.
It is clear that there is some turmoil within the Mega Brother family, and we will have to wait and see for further updates.