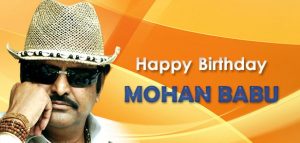 Mohan Babu, one of the most iconic actors in Indian cinema, is celebrating his birthday today. This veteran actor has been a prominent figure in the Telugu film industry for over four decades and has made a significant contribution to the world of cinema. On his special day, it is only fitting to hail him and his achievements.
After completing his formal education, Mohan Babu began his acting career in 1975 with the film 'Swargam Narakam'. Since then, he has acted in more than 500 films in Telugu, Tamil, Kannada, and Hindi languages. He has also produced and directed several films.
Mohan Babu's contribution to the Telugu film industry is immeasurable. He is one of the few actors who can effortlessly portray both negative and positive characters with equal ease. He has won several awards for his performances.
Apart from acting, Mohan Babu has also made a significant contribution to the Telugu film industry as a producer. The legendary actor has produced several acclaimed movies under his banner 'Sree Lakshmi Prasanna Pictures'. Some of the notable films produced by him include 'Assembly Rowdy', 'Allari Mogudu', 'Pedarayudu', and 'Rayalaseema Ramanan Chowdary'.
In addition to his contributions to the film industry, Mohan Babu is also known for his philanthropic work. He has established the Sree Vidyanikethan Educational Trust, which runs several educational institutions, including schools, colleges, and vocational training centers. The trust provides education to underprivileged children and has helped thousands of students achieve their dreams.
Mohan Babu is not just an actor but an institution in himself. He has not only entertained the audience with his exceptional acting skills but has also inspired many with his work ethic and values. He is the epitome of hard work, dedication, and perseverance. He has set an example for generations to come with his contribution to the film industry and his philanthropic work.
On his special day, let's celebrate the life and achievements of this legendary actor and wish him good health and happiness. Mohan Babu's contribution to the Telugu film industry is invaluable, and his legacy will continue to inspire generations to come.