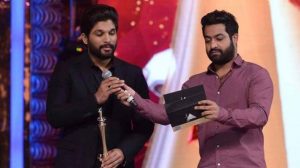 In recent years, Tollywood has witnessed a growing trend of multistarrers, as producers are constantly on the lookout for exciting collaborations that can create a buzz among audiences. One such producer is the renowned filmmaker Allu Arvind, who has reportedly registered the title "Krishna Arjuna" for Allu Arjun and Ram Charan. However, the buzz is that Allu Arvind is now planning to make the same movie with NTR and Allu Arjun in the lead roles, further strengthening the bond between the Allu and Nandamuri families.
The combination of NTR and Allu Arjun is one that fans have been eagerly anticipating for a long time, and it looks like Allu Arvind is all set to make their wish come true.
The concept of multistarrers is not new to Tollywood, with movies like Seethamma Vakitlo Sirimalle Chettu, Gopala Gopala, and RRR having been successful at the box office thanks to the star power of the actors involved. With audiences always looking for more such collaborations, producers are now trying to push the envelope and bring together even bigger stars.
Allu Arvind, known for his keen eye for talent and ability to create blockbuster movies, is looking to create a movie that will appeal to fans of both NTR and Allu Arjun, and take the trend of multistarrers to the next level. While the details of the movie are yet to be revealed, fans are already speculating about what the storyline could be, and how the two actors will share screen space.