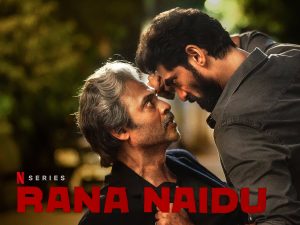 Starring: Venkatesh Daggubati, Rana Daggubati, Surveen Chawla, Abhishek Banerjee, Priya Banerjee, Sushant Singh, Ashish Vidyarthi, Adithya Menon, Mukul Chadda, Rajesh Jais, Rajesh Kumar & others
Director: Suparn Verma & Karan Anshuman
Producers: Sunder Aaron
Music Director: John Stewart Eduri
Netflix India has recently released a new web series called Rana Naidu, which marks the OTT debut of Tollywood actor Victory Venkatesh. Co-starring Rana Daggubati, the show is an Indian adaptation of the American television series Ray Donovan, and is directed by Suparn Verma & Karan Anshuman. The series is now available for streaming in various dubbed versions. Here is a review of the show.
Plot:
The story follows Rana Naidu (Rana Daggubati), a problem solver for celebrities in Mumbai, from Bollywood stars to cricketers. Rana Naidu lives with his wife and children and has two brothers, Tej Naidu (Sushanth Singh) and Pawan Naidu, aka Jaffa (Abhishek Banerjee), who also lives in Mumbai. However, when Rana Naidu's father, Naga Naidu (Venkatesh Daggubati), comes to Mumbai after 15 years of imprisonment, Rana Naidu's life takes a turn for the worse. Rana Naidu hates his father, and the series delves into why, how his life changes with the arrival of Naga Naidu, and what made Naga Naidu end up in jail.
Pros:
The show's title suggests that Rana Naidu gets the lion's share of the screen time, and the actor does complete justice to the role. Rana's performance is intense and subtle in emotional scenes, and he doesn't go overboard with his acting. Venkatesh's character with grey shades and foul language is a stark departure from his endearing family dramas, but he proves he can play any role with conviction. The confrontational scenes between Venkatesh and Rana are also a highlight of the show, and Surveen Chawla performs well as Rana's wife.
Cons:
However, the show falls short of expectations, given the presence of such accomplished actors. The story, which is a simple family tale with a crime backdrop, is dragged out excessively, and the screenplay fails to engage the audience. The subplots lack depth and consistency, and the family drama isn't fleshed out well. The series picks up momentum only in the last few episodes, and the editing team did a poor job of cutting sluggish sequences, causing extreme boredom. The overuse of foul language and skin show also irritates viewers.

Verdict:
Overall, Rana Naidu is a crime action drama that works to an extent, with a few good moments in the last few episodes. Rana and Venkatesh's performances are earnest, but they are let down by writing issues and a lengthy runtime. If you are a fan of Venky and Rana, you can still give the series a shot, but keep your expectations in check.