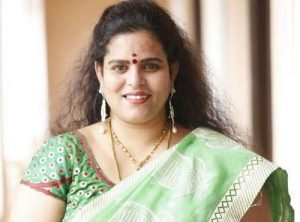 Karate Kalyani, a well-known senior character artist and member of the Movie Artists Association (MAA), has once again found herself embroiled in controversy. Her recent remarks about SR NTR during the centenary birth celebrations have sparked outrage and heated discussions among the Telugu community.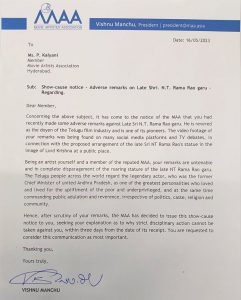 Kalyani's statement, in which she criticized the proposed statue of NTR portraying him as Lord Sri Krishna, has drawn widespread attention and backlash. Many people feel that her comments were disrespectful and demeaning towards both NTR and the revered deity.
As a result of the controversy, MAA has taken disciplinary action against Kalyani. The association's president, Manchu Vishnu, has promptly issued a show cause notice to her, questioning her rationale as an actress and a member of MAA to make such derogatory remarks about the iconic figure of NTR.
This latest controversy has once again put Karate Kalyani in the spotlight, igniting debates and discussions about the boundaries of expression and respect within the industry. The repercussions of her statements and MAA's response are eagerly awaited by both her supporters and detractors alike.